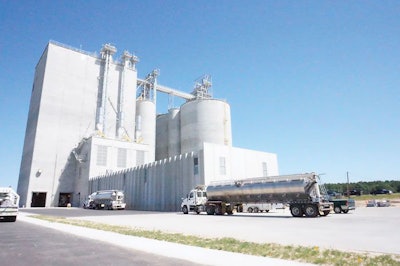 Wayne Farms, LLC, headquartered in Oakwood, Georgia, is the sixth largest vertically integrated poultry producer in the United States. In early 2017, the company began operation of its new 50,000-square-foot feed mill in Ozark, Alabama. The facility has the capacity to produce 25,000 tons of poultry feed per week, making it the largest startup in the country.
The company's investment in Southern Alabama was born out of necessity. One, to support its growing poultry production, but also to address the feed manufacturing needs driven by evolving consumer preferences.
"The American consumer is changing and their voice is being heard," explained Brad Williams, area complex manager, Wayne Farms. "People are more concerned about where their food comes from, how it's manufactured and how it's grown. This is part of the reason why we have made some of the changes we have."
In addition to Wayne Farms sizable domestic business, 6 percent of the company's poultry products are exported to Mexico, Asia and the Middle East.
To meet these demands, Wayne Farms committed one of the two lines of its Ozark mill's feed production exclusively to all-vegetable, antibiotic-free feeds.
"Things are changing rapidly in the poultry business in terms of what consumers are looking for," he continued. "A few years ago, the organic or the completely antibiotic-free section of the grocery store might have been relatively small, but that section keeps getting larger and larger. Today, you can see the success of some of the grocery store chains and mainstream retail brands that specialize in that area."
Considering itself a "business-to-business company," Wayne Farms strives to provide its foodservice customers, such as Zaxby's and Chick-fil-A, with high-quality poultry products while staying ahead of overarching poultry consumption trends.
For example, Wayne Farms recently developed its own private label, Naked Truth premium chicken, which is verified by the Global Animal Partnership (GAP) Step 2 for humane production practices. These birds are fed all-vegetable, antibiotic-free diets.
"It's no longer a trend, it's the market," added Frank Singleton, who handles Wayne Farms media relations. "Wayne Farms has been very progressive in hitting the curve [with antibiotic-free production] because it's about what our customers want."
Decision to build new
Alabama accounts for 60 percent of Wayne Farms' poultry production. As its poultry processing operations continued to grow in the state, feed production had "maxed out" at the company's three older feed mills located in Troy, Alabama; Enterprise, Alabama; and DeFuniak Springs, Florida.
"To support our growth, we needed to expand our feed manufacturing and delivering capabilities," Williams explained. "What we needed to do was consolidate those mills and build one new mill in a central location on the main CSX rail line."
In 2014 the company made the decision to incrementally close the three mills and absorb their employees at the new facility.
Greenfield construction of the $55 million feed mill, built by design-engineer firm Todd & Sargent, took roughly 20 months to complete. The Ozark mill began operations in February 2017.
"Two feed mills in one"
The Ozark feed mill serves 500 local poultry growers, feeding nearly 50 million birds annually, and produces 15 types of feed with formulations for every stage of the production cycle. According to Singleton, the new plant is unique because it essentially operates two separate feed mills within the same facility.
"We have the ability to produce two different feed types at the same time using two batching systems under the same roof," Singleton explained.
With production volumes rated at 162 tons/hour, the mill utilizes dual Hayes & Stolz 10-ton mixers and dual 20-bin micro-ingredient systems. The two sides of the batching system feed into three 90-ton/hour CPM pellet lines with dual conditioners, horizontal coolers and crumblers. Throughout the manufacturing process, batches remain separate to guarantee the integrity of the end product.
The Ozark mill ships 120 loads/day from two truck loadout bays, fed by 6,000 tons of finished feed storage.
Eighty-five employees, including 50 contract drivers, work at the site. The mill runs three production shifts, 5 days/week; and two delivery shifts on a 7-day schedule.
Ingredient receiving and storage
Wayne Farms worked with the CSX railroad to design its 100-car, 1.4-mile loop track, which also features a ladder track capable of holding 80 railcars.
The mill operates three receiving pits: a rail pit for corn, a rail-truck combination pit and one pit exclusively for trucks.
It receives most of its corn and soy by rail and can unload a 90-car train in 12 hours. It will receive 27 million bushels of corn annually, with 20 percent received by truck from farmers located in Georgia, Alabama and Mississippi.
"Truck drivers want dump and go — speed is one of our advantages," explained John Brabham, Southern Alabama assistant feed mill manager, noting unload times clocking less than 7 minutes. "We also designed the pit so farmers have space to line up off the road."
To accommodate commodity shipments, the site has storage capacities of 1 million bushels for corn; 4,200 tons of soy; and 2,500 pounds of DDGS.
Role of nutrition moving forward
With the demands of consumer-driven production, Williams feels technology will play a significant role in remaining competitive in the future.
"Our ability to formulate ever-more complex feeds with less drugs and more natural products will require the kind of controls we have invested in," Williams said. "I think it's going to be to be paramount to our success down the road and that's one of the reasons why we made the investments we did."
Wayne Farms, LLC Headquarters: Oakwood, Georgia Employees: 9,000 Fresh and prepared poultry facilities: 11 Market area: Global Poultry production volume: 2.6 billion pounds Sales: $2.2 billion Industry market share: 5.4 percent U.S. industry ranking: 6