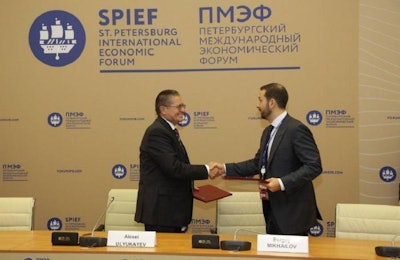 From WATTAgNet:
Russian agriculture company Cherkizovo has been accused by Russia's Ministry of Internal Affairs of illegally understating tax rates and siphoning off $5 million to an offshore company, according to a report.
Website Crime Russia also reported that Cherkizovo CEO Sergei Mikhailov has been charged in connection to the case. Mikhailov maintains his innocence, blaming "technical disagreements."
Reports say Cherkizovo executives paid dividends to a Cypriot shareholder through illegal offshore schemes. This allowed the company to pay a 5 percent tax rate instead of the 15 percent it should have paid, amounting to 300 million rubles, or about $5 million.
Cherkizovo is Russia's third-largest pork producer, according to WATT Global Media. The company operates 15 pig units in addition to poultry and feed interests. During the first half of fiscal year 2017, the company saw its net profits grow by more than five-fold, while also increasing its sales volume for its poultry, pork and meat processing divisions. Its net profit for the period reached RUB5.1 billion (US$84.4 million), compared with RUB900 million (US$15.3 million) for the same period of the 2016 fiscal year.
In July, Cherkizovo Group announced its controlling shareholder had decreased its share in the group. MB Capital Europe had sold almost 1.9 million shares or 2.89 percent to Grupo Corporativo Fuertes, S.L., increasing the latter's shareholding in Cherkizovo to eight percent.
Cherkizovo paid dividends to a Cypriot shareholder through illegal offshore schemes. The website of the Ministry of Internal Affairs reported that a large agriculture holding was suspected of an illegal understatement of the tax rate and siphoning off $5m to an offshore company. TASS sources reveal that the large agriculture holding was actually the Cherkizovo Group.
Read More at en.crimerussia.com
Kommersant became aware of so far the only person involved in the criminal case, initiated against agricultural holding Cherkizovo. He turned out to be the general director of Cherkizovo group Sergei Mikhailov. He does not admit his guilt, explaining the tax dodging by
Read More at en.crimerussia.com