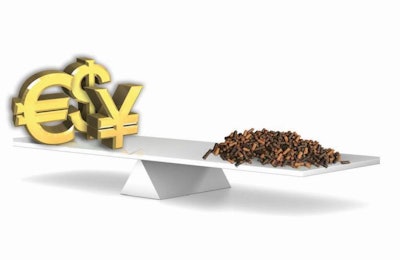 From WATTAgNet:
We chose the 10 most popular animal feed-related stories from 2015, based on page views and average time spent on page, to highlight as the year comes to a close.
---
Analysis of regional growth of animal feed companies and major developments with key industry players in 2014 and the first half of 2015.
No single technology, feed additive or management practice can support productivity in poultry as cost-effectively as antimicrobial agents. Yet, it is high time, especially in the U.S., we discuss how we can do just that: feed poultry with diets devoid of antibiotics.
Piglet feed is undoubtedly the most expensive diet in a pig's life, and although its contribution to final cost per pig remains less than 2 percent, there are incentives to lower the cost per pound of feed, both for the piglet feed producer and the pig producer.
Preliminary testing over the summer months of the 2015 North America wheat crop, conducted by Alltech's 37+ mycotoxin analysis, shows an average 3.2 mycotoxins per sample, with Deoxynivalenol (DON) the most predominant toxin.
Dave MacLennan, Cargill chairman and CEO, has announced a new executive leadership team for Cargill globally, designed to streamline and simplify the company's operations.
Alltech will acquire 100 percent of the outstanding stock of Ridley Inc. for CAD$40.75 (US$33.57) per share. The total consideration payable to Ridley shareholders is approximately CAD$521 million (US$429.2 million). The price of CAD$40.75 per share represents a premium of approximately 23 percent to the 20-day volume weighted average price of Ridley's common shares on the TSX as of April 22, 2015.
From WATTAgNet: Tainted soy oil cost a West Michigan turkey farm more than $1 million when it killed 47,000 turkeys and ruined 500 tons of feed, federal authorities said. Shur-Green Farms of Ansonia, Ohio, allegedly continued to sell the tainted product after the turkey deaths. The U.S.
It all depends who you ask, as they all have a say in this case: the animal, the producer, the renderer, the consumer. Let's examine each case more closely because it is a topic that keeps surfacing, causing considerable concern and, in my opinion, more harm than good to all parties.
From WATTAgNet: Japanese researchers have developed technology for simultaneous production of biofuel and animal feed without the need for off-site processing. The process is called the solid-state fermentation (SSF) system. How does the SSF system work? Non-sterilized whole rice plants are packed into a round bale in the field at harvest and wrapped in polyethylene, along with a mixture containing yeast, enzymes and bacteria.
Global compound livestock feed and aquafeed production grew 1.6 percent in 2014 to 846.5 million metric tons, according to the World Feed Panorama.