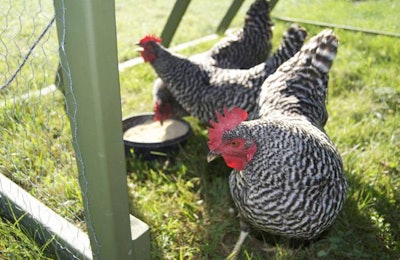 From WATTAgNet:
European Parliament's Agriculture Committee has approved some amendments to EU organic rules, creating some aids and challenges for organic farmers in the U.K.
The biggest concern in the rules is a proposal requiring organic animal feed to be produced on-farm or sourced within 150 km (93 miles). National Farmers Union Deputy President Minette Batters said the proposal is "a big threat to all our organic livestock producers and could realistically threaten the viability of their businesses. The change to organic feed sourcing is unworkable in the U.K. as there's already a major shortage and people simply wouldn't be able to get hold of it," she said.
However, the NFU is pleased the clause requiring wholesale conversion of part-organic systems to a full organic operation within five years was removed. Also removed was a condition that would hold organic farmers liable for any accidental contamination.
Amendments approved by the Agriculture Committee will be the subject of inter-institutional negotiations between the European Council, the Parliament and the Commission.
In August, Eurostat said, in absolute terms, the greatest number of farm animals kept under organic conditions in the European Union are poultry, where the number totaled just under 28.5 million in 2014, 3.9 percent fewer than in the previous year. Excluding incomplete datasets, however, there was a positive trend in organic poultry numbers in the EU of almost 6 percent.
Leading the league table for organic poultry in 2014 was France with more than 12.75 million birds, an increase of 8.9 percent from the previous year. Next came Germany with 4.93 million (unchanged) and then the U.K. and The Netherlands, each with more than 2.35 million organic poultry; while the latter registered an increase of 8.5 percent from 2013, the U.K. figure was 3.6 percent lower than the previous year.
---
EU proposal could result in shortage of organic animal feed
Farming organisations have warned an EU proposal to require organic animal feed to be sourced within 150km of the farm would not work in the UK. UK organic farmers could struggle to source sufficient volumes of animal feed if proposed changes to EU organic rules go through as they stand.
Read More at www.fginsight.com