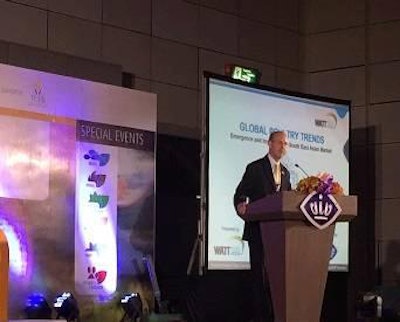 The 2015 edition of international animal protein trade show VIV Asia kicked off with an opening ceremony focused on opportunities in animal agribusiness. A mix of dignitaries and industry leaders presented their outlooks for the growth of animal protein sectors in Asia.
"The challenge and the opportunity ahead is to meet changing consumer needs as the global population grows to more than 9 billion," said Greg Watt, president/CEO of WATT Global Media, who served as one of four keynote speakers at VIV Asia's opening ceremony.
From sustainable production to animal nutrition, the event's large conference program and sold-out convention halls provide a variety of innovative production solutions. Overall, VIV Asia 2015 features 874 exhibitors — including 174 new exhibitors.
The three-day event, held in Bangkok, is estimated to be visited by more than 30,000 visitors. Event organizer, VNU Exhibitions, reported increased attendance from visitors from Southeast Asian countries, especially India, Indonesia and Bangladesh.
The 2015 edition launched three new events in dairy, biogas and pet health.
This year marks the 24th edition of the biannual event.