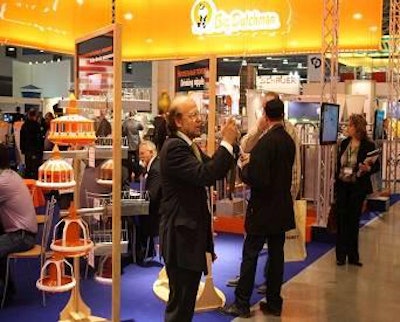 VIV Russia will carry on the Feed-to-Meat concept to Moscow, May 19-21, 2015.
VIV Russia will showcase the industry's developments by the Feed-to-Meat concept. Feed to meat brings together supply and demand within the complete animal protein chain. The driver behind the chain concept is that animal feed and animal health are vital for meat quality and safety. VIV Russia will focus on every step in the meat production process, presented by the world's key players in the industry.
Consumer attitudes and behaviors toward food are rapidly changing on a global scale. Demands for healthy, convenient, fresh and safe products are increasing. Packaging is becoming more important with the selling process as fresh foods are expected to be conveniently packaged and easy to store.
Animal production and processing is facing a difficult time. After mad cow, classical swine and avian influenza, consumers are skeptical and want guarantees about the meats they eat. Meat safety can only be guaranteed if every step in the meat production chain is carefully monitored and controlled.
To stay current with these developments, today's meat business is about improving:
yield
quality
hygiene
traceability
portioning
performance
profitability
efficiency
transparency
Meat producing and – (further) processing companies adapt and improve their production processes to meet demands. International food quality institutions developed standards for quality assurance and secured traceability. The trend is towards systems that cover the entire food chain from primary production to finished products: from feed to meat.
Each year, the supply chain for meat, poultry and aquaculture is getting further integrated. VIV has a long history with top decision-makers in the bigger integrations and producers of poultry and pigs. Therefore VIV recognizes a growing interest from visitors in meat slaughtering and further meat processing. This growing interest is the starting point for the specialized MeatTech theme at the larger VIV trade shows.