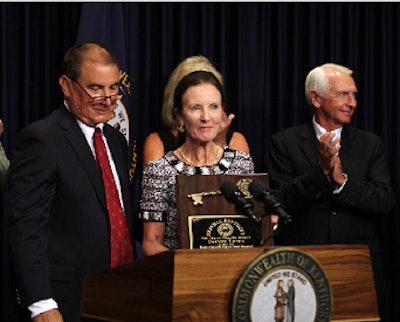 Global animal nutrition company Alltech will become the first occupant on the new Marion Branch industrial site in Pikeville, Kentucky, with plans to develop an aquaculture and poultry layer facility. The project incorporates objectives of the Shaping Our Appalachian Region (SOAR) initiative, begun by Gov. Steve Beshear and U.S. Rep. Hal Rogers in late 2013 to revitalize the struggling economy in eastern Kentucky counties.
The initiative falls in line with Alltech's core business in animal nutrition, implementing its sustainable and natural solutions designed to help farmers feed a rapidly growing world population of 9 billion people by 2050.
"We are delighted to have the support of Gov. Beshear, Congressman Hal Rogers and the Commonwealth of Kentucky that will make it possible for Alltech and other companies to operate at the Marion Branch Industrial Park," said Deirdre Lyons, co-founder and director of corporate image and design at Alltech. "We are also thankful to the City of Pikeville for their continued support and shared vision for prosperity in eastern Kentucky. We hope that through our decision to build an aquaculture and layer facility at Marion Branch, as well as a new brewery and distillery in downtown Pikeville, we can be a catalyst for further economic development in the area."
Marion Branch is a 380-acre former surface mine site that is within Pikeville city limits and owned by the city. Pikeville City Commission worked to obtain the infrastructure of a bridge, road, water and sewer to encourage business development in the area.
"This announcement is proof that there are opportunities for economic development in eastern Kentucky if we work to make them happen," Beshear said. "This type of partnership, which brings in government resources along with private-sector investment, is an example of what we are trying to do with the SOAR initiative. We want local communities to be key drivers in recovery efforts, as is happening with this project."
"Eastern Kentucky is a great place to work and live – we're spreading the word that we're open for business," said Rep. Rogers. "One of the top companies in Kentucky is planting roots in our region, and other businesses should take notice of the benefits we have to offer with our competitive workforce, beautiful landscape and growing entrepreneurial support system. I commend Gov. Beshear and our state legislators for realizing the value of investing in the Marion Branch Industrial Site, and Pikeville city leaders for continuing to raise the bar for progress in eastern Kentucky."
The Pikeville/Alltech announcement is in line with the efforts of the 10 SOAR working groups that are leading discussions throughout the region on topics related to eastern Kentucky's future economic well-being and quality of life. Based on citizen and organizational input, the groups will identify significant opportunities and a long-term vision related to their topics. The working groups' focus areas include broadband; agriculture, community and regional foods; business recruitment and incubation; education and retraining; and health.