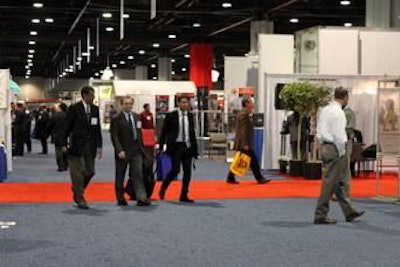 Industry leaders from all over the world will once again meet at the Georgia World Congress Center in Atlanta for the 2014 International Production & Processing Expo (IPPE) Tuesday through Thursday, January 28-30, 2014, to share ideas, network and see the world's largest annual display of equipment, supplies and services used in the production and processing of poultry, meat, eggs and feed products.
Hosted by the U.S. Poultry & Egg Association (USPOULTRY), the American Feed Industry Association (AFIA), and the American Meat Institute (AMI), IPPE is one of the 50 largest tradeshows in the United States. The entire tradeshow is expected to include nearly 1,100 exhibitors, 25,000 anticipated attendees, and more than 400,000 square feet of exhibition space.
New for 2014
Each year, IPPE offers dynamic educational programs addressing current industry issues. New for 2014 are the following: Poultry Plant Tour; Sanitary Equipment Design Principles Workshop; New Approaches to Ground Poultry Pathogen Reduction; Antibiotics Workshop; How to Export Feed & Feed Ingredients to the U.S.; VIV International Pork Production Summit; Fall Protection Short Course; Biosecurity – Revisiting the Basics and Implementing New Strategies; Traceability Workshop; Changing Food Safety Landscape: MDR Salmonella; Changing Food Safety Landscape: non-O157 E. coli; and Export/International Food Safety Issues.
In addition to poultry, feed, and beef, the 2014 IPPE is expanding its focus to the international pork industry. IPPE is partnering with the Dutch-based tradeshow organizers of VIV to provide a comprehensive educational program focusing on recent developments in the international pork arena. A Pig Pavilion will showcase information about the international pork industry. Special cooking demonstrations of pork products will be held by local chefs.
Returning educational programs
The returning educational program schedule also includes annual favorites, such as: Animal Agriculture Sustainability Summit, Pet Food Conference, AFIA International Feed Education Program, Market Intelligence Forum, and Technology XChange Program.
For detailed information about the educational programs, visit the IPPE website and view the program schedule.