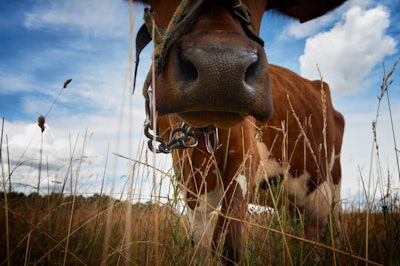 Livestock farmers in Canada are looking for sources of feed for their animals as dry conditions continue to deplete resources.
Persistent dry conditions this summer have resulted in shortages of hay and grass for cattle, and some producers may be forced to sell off their animals if they can't feed them – in some cases, up to half of their herds.
To help beef producers find sources of feed for their animals, agriculture groups are asking farmers who don't have livestock to feed to sell any excess hay, straw and feed sources to cattle producers.
Manitoba Beef Producers (MBP) and Keystone Agricultural Producers (KAP), two farm groups representing Manitoba beef and grain farmers, have developed a fact sheet outlining several options farmers have for selling and purchasing feed, and are encouraging producers to use any and all means available to list available feed for purchase.
"Many beef producers have been hard hit by back-to-back dry conditions that have led to diminished pasture and forage yields and depleted their hay and straw reserves," said MBP President Tom Teichroeb in a press release. "Faced with these conditions, they are looking to source both traditional and alternative sources of feed and bedding. We are encouraging producers with these kinds of resources available to consider listing them for sale."
"Given dry conditions reported across much of the province, we feel that it is important to ensure producers know what their options are when it comes to both buying and selling available hay and straw," KAP president Bill Campbell said. "As a grain farmer and a beef producer, I must utilize every option available to ensure the long-term viability of my operation."
Multiple years of extreme weather
In January, Canada's government released a list of designated regions where livestock tax deferral was authorized for 2018 due to drought conditions in British Columbia, Alberta, Saskatchewan, Manitoba, Ontario, Quebec and New Brunswick.
"Extreme weather conditions created difficulties for Canada's livestock industry in several provinces this past year," said Minister of Agriculture and Agri-Food Lawrence MacAulay at the time. "This tax deferral will help farmers manage the impacts of drought and focus on rebuilding their herds and businesses."
The livestock tax deferral provision allows producers in prescribed drought or excess moisture regions to defer a portion of their 2018 sale proceeds of breeding livestock until 2019 to help replenish the herd. The cost of replacing the animals in 2019 will offset the deferred income, thereby reducing the tax burden associated with the original sale.