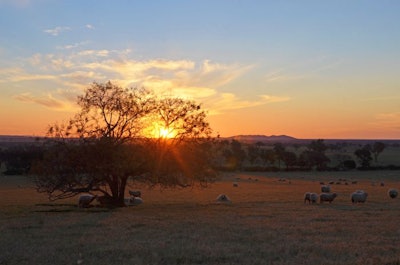 A convoy of 10 semitrailers delivered feed and water to farmers in New South Wales, Australia, who are struggling to feed their livestock amid a two-year-long drought.
The delivery of animal feed, hay, feeding equipment, 23,000 liters of drinking and irrigation water, and other items went to Coonabarabran's farmers as part of a "Fill A Truck For Farmers" campaign, according to a report. About 2,800 bales of hay were trucked in from western Australia. Each farmer will receive 10 bales of hay, which is enough to feed their animals for about two weeks.
The organizer of the campaign, Shane Worrall, said the program worked better than he expected.
"I thought it was going to take me at least three days to fill (my truck). Now we've got over 10 semis going up. It's been a logistical nightmare, but it's just been unbelievable for it to come through," he said in the report. "We've got a lot of cattle feed and milk-based products for the calves to be able to feed on, and also feeder bottles and troughs. They've got a lot of calves that need feeding and the parents aren't up to feeding them."
Worrall also raised more than AUD90,000 (US$66,000) in funding to help farmers in the region.
In other efforts, AUD4.5 million has been raised to support struggling farmers, including AUD500,000 for the National Farmers' Federation's (NFF) "Need For Feed" initiative and AUD250,000 each for the New South Wales and Queensland Country Women's Association branches.
"Need or Feed has been sourcing fodder from across Australia and providing eligible farmers with up to 10 bales of quality hay," said NFF President Fiona Simson.
In July, the New South Wales government said it would provide a AUS$500 million emergency drought relief package to help farmers affected by the dry conditions. The government will offer a subsidy of up to $20,000 per eligible farm business that will cover half of the cost of transporting feed and water to livestock or to get livestock to pasture, slaughter or sale. In addition, certain charges will be waived, including Local Land Service annual rates, water license fixed charges, registration costs for Class 1 agricultural vehicles, and interest on existing Farm Innovation Fund loans.
Despite building stockpiles of hay and grain for their livestock, farmers across Australia have asked the government to import grain to help them weather the drought. Australia has strict quarantine regulations to guarantee the country's biosecurity, so importing grains from other countries is very difficult.