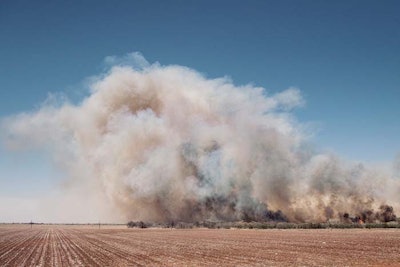 U.S. Secretary of Agriculture Sonny Perdue has announced new details on eligibility for a new U.S. Department of Agriculture (USDA) disaster program, 2017 Wildfires and Hurricanes Indemnity Program (2017 WHIP).
In total, USDA's Farm Service Agency (FSA) will deploy up to $2.36 billion that Congress appropriated through the Bipartisan Budget Act of 2018 to help producers with recovery of their agricultural operations in at least nine states with hurricane damage and states affected by wildfires. After the announcement, Perdue issued this statement:
"Last year, our nation experienced some of the most significant disasters we have seen in decades, some back to back, at the most critical time in their production year. While USDA has a suite of disaster programs as well as crop insurance available to help producers manage their risk, Congress felt it was important to provide extra assistance to our nation's farms and ranches that were the hardest hit last year. At President Trump's direction, our team is working as quickly as possible to make this new program available to farmers in need."
Eligibility for the program
Any crop, tree, bush or vine damaged by a wildfire in 2017 is eligible.
Eligibility will be determined on an individual basis, using the level of insurance coverage purchased for 2017 for the total crop acres on the area for which the WHIP application is made. Eligible producers who certify to an average adjusted gross income (AGI) of at least 75 percent derived from farming or ranching, including other agriculture and forestry-based businesses during the tax years 2013, 2014 and 2015, will be eligible for a $900,000 payment limitation with verification.
All other eligible producers requesting 2017 WHIP benefits will be subject to a $125,000 payment limitation.
Insured and uninsured producers are eligible to apply for WHIP. However, all producers opting to receive 2017 WHIP payments will be required to purchase crop insurance at the 60 percent coverage level, or Noninsured Crop Disaster Assistance Program (NAP) at the 60 percent buy-up coverage level if crop insurance is not available. Coverage must be in place for the next two applicable crop years to meet program requirements.
In addition, for the applicable crop years, all producers are required to file an acreage report and report production.
Current wildfire hazards
The National Weather Service has issued Red Flag Warnings or Fire Weather Watches for areas in Arizona, New Mexico, Kansas, Colorado, Nebraska, Oklahoma, Texas, Illinois, Virginia, Maryland and Delaware, as of April 30. This creates risk of more cropland and livestock loss.
The U.S. Drought Monitor from April 26 showed large portions of the Southwest in moderate to exceptional drought conditions. It said drought in the region continues to intensify with dry, windy conditions.
Through April 24, U.S. year-to-date wildfires had consumed 0.96 million acres of vegetation, compared to the 10-year average of 0.85 million acres, according to the National Interagency Fire Center.
In the West, mostly dry weather prevailed, with the exception of some snow in the central Rockies. Ongoing and intensifying drought continues to threaten water supplies in Arizona, Colorado, New Mexico and Utah. Exceptional drought conditions were expanded in this region.
Livestock impacted
Various states are still feeling the impact of wildfires. California Cattlemen's Association stated on its website that, as fires continue to rage across California, various federal government programs exist to provide disaster assistance for those who have been affected by wildfires. The California association noted that several of the disaster assistance programs have initial notification deadlines that must be met in order to be eligible for funding.
The Oklahoma Department of Agriculture has reported as many as 1,100 cattle dead since the start of the recent fires and those numbers are expected to continue to grow. Western Oklahoma experienced wildfires that burned more than 320,000 acres. The full impact of the wildfires will not be known until weather conditions change and the fires are under control. The National Cattlemen's Beef Association and the Oklahoma Cattlemen's Association have reached out to Trump and Vice President Mike Pence to come and see the devastation.
"Hay is the No. 1 need right now," said Dana Bay, Woodward County Oklahoma State University Extension Educator in a press release from the Oklahoma Cattlemen. "Ranchers that were able to save their cattle but lost their grass and hay of their own are in desperate need of hay to sustain those animals."
The association's outreach expressed that producers have stated that this year's fires have brought more damage than even the fires of 2017, which brought plenty of devastation for the southern producers in Oklahoma, Kansas, Colorado and other areas.
Immediate assistance for Oklahoma Cattlemen
For those struggling to feed livestock after the wildfires, some state associations have taken it upon themselves to offer assistance. The Oklahoma Cattlemen's Foundation has set up a fire relief fund where donations can be made to help cattlemen affected by the ongoing wildfires in Western Oklahoma.
Governor Mary Fallin has received a letter from the U.S. Department of Agriculture (USDA) stating emergency loans are available to livestock producers in six Oklahoma counties where recent wildfires caused significant damage.