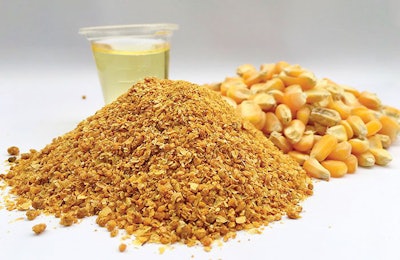 The large expansion of the ethanol industry has increased the supply of co-products for the animal feed industry. Each metric ton of corn processed in dry mill plants yields close to 300 kg of distillers grains with or without solubles. Distillers grains, either dried or wet, with or without solubles, are the main feed co-products generated in the process, although other co-products, such as condensed distillers solubles, are also available in the market.
Read the entire report about low-fat distillers grains exclusively in the March issue of Feed Strategy.
Distillers grains are a good source of protein (>30 percent; ~55 percent of protein is undegradable in rumen) and energy (~ 0.9 Mcal net energy for lactation/lb. dry matter (DM) for dairy cattle.
According to the Renewable Fuels Association (RFA), distillers grains produced by U.S. dry mill plants increased close to three times between 2006 and 2016, with the production estimated to total 12.0 million and 37.5 million metric tons, respectively, during these years. Distillers grains use rates were 30 percent for dairy and 44 percent for beef cattle in 2016.
Despite a competitive price when compared with other protein sources and their high availability in the market, distillers grains are not always sought as a dietary ingredient by some nutritionists and dairy producers.
In a survey conducted in South Dakota, in which 28 percent of all Grade A dairy producers replied, many confirmed they did not use distillers grains in their dairy cattle diets. In another survey on the use of distillers grains sent to 10 nutritionists specializing in dairy cattle, their high fat content was the main reason why distillers grains inclusion was restricted in dairy diets.
Half of those surveyed (5 out of 10), agreed that the high concentrations of unsaturated fatty acids in distillers grains reduced fat content in milk. Nine out of 10 of the dairy consultants indicated that the level of distillers grains inclusion in diets could be increased if a portion of the fat in distillers grains was removed.