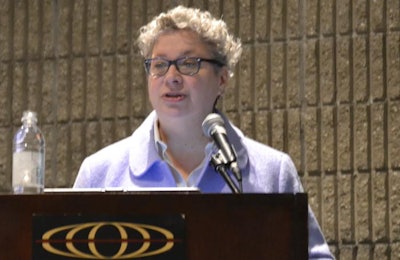 The "non-GMO" label is no longer something that some consumers seek for only plant-based products. That label is now also being sought for animal-based products such as meat, poultry and dairy foods.
Speaking on February 1 at the International Production & Processing Expo in Atlanta, Georgia, Lynn Dornblaser, Mintel director of innovation and insight, spoke of the changes involving food product labeling and packaging during the session,
Dornblaser said it is fascinating to her to see the labels touting that genetically-modified organisms (GMOs) were not used in the food production.
"We're beginning to see some activity with companies talking about GMO feed for their animals," said Dornblaser.
She showed a picture of one milk carton on which the label promoted the message that GMO feeds were not used for their cattle, and that milk product was not found at a higher-end grocery store that focuses on "natural" foods. Instead, it was seen on the Walmart shelves.
"What's most interesting about this is that milk is from Wal-Mart, so this isn't just products that are sold at a significant price premium, but ones that are everyday value for everyday consumers," Dornblaser said.
Similar labels are also seen appearing in many other grocery stores as well, she added.
'Clean and simple' labels
Labels promoting things like GMO-free ingredients may be growing as the demand for "clean and simple" products is also growing. However, Dornblaser said it also provides a challenge to the companies trying to market those products.
If a food company wants the consumers to see the product for its simplicity, then the labels must also be simple. Because of that, it is important not to over-emphasize the attributes of the food that are appealing to consumers seeking food that she refers to as "clean and simple."
The companies that do the best promotion find the perfect balance between essentialism and minimalism, said Dornblaser.