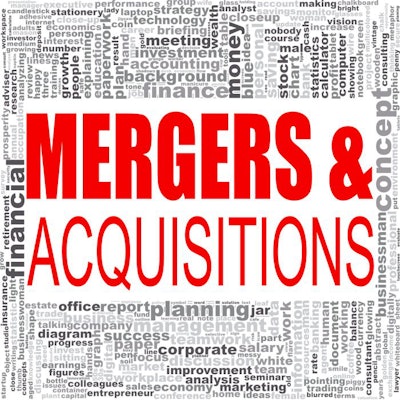 Transaction includes 18 rendering plants and used cooking oil facilities
Darling Ingredients has completed the acquisition of Valley Proteins, one of the largest independent rendering companies in the United States.
Darling Ingredients first announced its intent to purchase Valley Proteins in December 2021 for a purchase price of $1.1 billion, plus or minus various closing adjustments. As part of the transaction, Darling Ingredients acquired 18 major rendering plants and used cooking oil facilities throughout the southern, southeast and mid-Atlantic regions of the U.S.
"We are excited to welcome Valley Proteins to the Darling Ingredients family," Randall C. Stuewe, chairman and CEO of Darling Ingredients said in a press release. "Valley Proteins has built a successful rendering and used cooking oil business that immediately strengthens our base business and expands our ability to provide additional low carbon intensity feedstocks to fuel the growing demand for renewable diesel."
It was earlier reported that Valley Proteins employed 1,900 people and operated a fleet of 550 vehicles. Darling Ingredients' announcement that the acquisition had been completed did not state how many of those positions would be retained.
Prior to the acquisition, Valley Proteins had experienced some troubles.
In 2021, the company's rendering facility in Linkwood, Maryland, suspended operations in response to an inspection report from the Maryland Department of the Environment (MDE) that listed numerous needed corrections. At the time MDE stated that the inspection report required the company "to set forth planned actions to ensure that future operations will comply with discharge limits and permit terms."
Also, in 2019, Valley Proteins received a warning letter from the U.S. Food and Drug Administration (FDA) because of the presence of pentobarbital in its animal fat products, as well as an inspection that revealed alleged violations of the Current Good Manufacturing Practice, Hazard Analysis and Risk-Based Preventive Controls requirements for animal feed, causing the company's products to be adulterated.
Darling Ingredients is a global developer and producer of sustainable natural ingredients from edible and inedible bio-nutrients, creating a wide range of ingredients and customized specialty solutions for customers in the pharmaceutical, food, pet food, feed, industrial, fuel, bioenergy, and fertilizer industries. The company is publicly traded through the New York Stock Exchange under the ticker DAR.