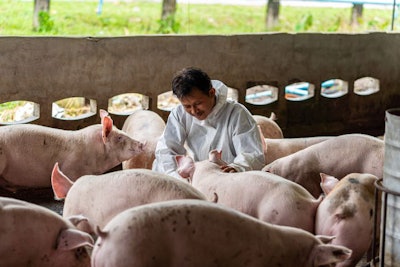 For the first time this year, African swine fever (ASF) virus has been confirmed as the cause of recent pig mortality in Bhutan.
After a hiatus of eight months, African swine fever (ASF) has been detected in the Kingdom of Bhutan.
In mid-April, some of the 136 pigs at a village in the Chukha district tested positive for the ASF virus. This is according to a recent report from the national animal health agency to the World Organisation for Animal Health (OIE).
The affected premises is described as a semi-commercial farm with animals belonging to 15 households. More than 40 of the pigs died. Source of the infection is unknown.
In the middle of 2021, around 1,200 pigs from another village in the same district were infected with the disease. At the time, it was suspected that the virus was transmitted into the border district of Chukha by infected pigs from the Indian state of West Bengal.
Further cases reported in northeastern India
During the third week of April, pigs were culled and died at a government-run farm in the state of Tripura. Around 160 animals of various ages were culled, reported The Print, at the farm in Debipur and nearby district of Sepahijala.
Previous cases of the disease were reported in Tripura in September last year, reported Economic Times.
Within a few days, Meghalaya state authorities imposed a ban on pig movements and slaughtering. According to The Print, the move came after confirmation of an ASF outbreak in the Ri-Bhoi district. Affecting the village of Umshorshor and the surrounding area, the number of cases is not reported.
In recent months, losses of pigs from ASF have been confirmed in other northeastern Indian states, including Mizoram, Sikkim and Assam.
More ASF outbreaks reported in Thailand
Between mid-March and April 12, 18 more outbreaks were confirmed in Thai pig herds.
These were included in the latest notifications to the OIE. A total of 509 pigs were involved in the outbreaks. Affected were village herds, each with between two and 154 animals.
Latest cases bring Thailand's total outbreaks since November last year to 82, with at least 2,460 pigs directly impacted.
So far, one or more cases have been officially reported in 31 of the nation's 76 provinces. Among the latest outbreaks were the first in Kamphaeng Phet, a province in the northern region, and Chachoengsao in eastern Thailand.
All six of the country's regions have now at least one confirmed ASF outbreak.
South Korea strengthens ASF prevention
With the peak of the spring wild boar breeding season occurring in April and May, and a recent spread of the infection to new areas, South Korea has increased its ASF prevention measures. Adding to the risk of spreading the disease is the popularity of countryside visits during the spring.
During April, the agriculture ministry announced new measures aimed to protect the nation's pig farms from the risk of ASF.
Since the first cases of ASF were detected in South Korea in September 2019, pigs at 21 farms have tested positive for the virus in total. However, no cases in domestic pigs have been reported so far this year.
Meanwhile, the number of infected wild boar passed 2,500 cases in mid-April, according to the latest update from the United Nations' Food and Agriculture Organization (FAO).
Not only were cases still rising in the wild population, but the infection has recently spread away from the previously affected northern provinces of Gangwon and Gyeonggi. This year, first cases were picked up in North Gyeongsang and North Chungcheong. These provinces are close to some of South Korea's largest pig complexes, according to the ministry.
According to the latest OIE notification, 78 wild boar testing positive for ASF were found in South Korea between March 31 and April 18. In groups of up to 26, the animals were discovered at 14 different locations in all four of the affected provinces.
New cases in swine in Eastern, Western Malaysia
In Eastern Malaysia, further cases of ASF have been reported in the state of Sabah.
According to the latest notification to the OIE, cases occurred at six locations in three districts between November 2021 and January 18 this year. Five of these outbreaks involved backyard herds. The other one affected a commercial farm with 820 pigs.
First cases of ASF were confirmed in Sabah in February 2021. Since then, almost 4,100 domestic pigs have been impacted by confirmed outbreaks in the state, along with almost 1,000 wild pigs.
There are also ongoing outbreaks of ASF in neighboring Sarawak.
In the state's Sibu division, cause of pig mortalities in early April was confirmed as ASF, according to Borneo Post.
Further north in Sarawak, the same source reports that more than 900 pigs have been culled due to ASF. These belonged to five out of 11 licensed farms in Miri division. Stamping out took place during the six weeks to April 21. Two unlicensed farms were permanently closed when ASF was detected. However, the licensed premises may re-open after 60 days, providing they pass official inspection.
More than 1,000 pigs were culled in Perak in mid-April, reported Malay Mail.
Starting in late March and early April, the outbreaks were at three farms in this Western Malaysian state — one in Hilir Perak district, and two in neighboring Batang Padang.
ASF situation elsewhere in Asia
In Vietnam, after four months without a single ASF case, pigs have tested positive for the virus in Mong Cai, according to the FAO. This city division is in Quang Ninh province in the northeast of Vietnam.
Since the start of April, no new cases of ASF have been reported by the Philippine News Agency (PNA).
In the Bicol region, more than 40 days had elapsed since the last confirmed cases of the disease in nine municipalities.
Meanwhile, in Western Visayas, one community in Antique province was participating in a new scheme to screen for livestock diseases. Along with other animals, blood samples were taken from 30 pigs to check for signs of ASF and other infections, PNA reported.
To the OIE, the authorities in Hong Kong have declared an earlier disease event "closed."
During January and February of this year, two outbreaks involving wild pigs were confirmed at two different locations in the territory. Involving a total of nine animals found dead, this ASF outbreak wave was considered to have ended on February 24.
In the Urals federal district of Russia, first cases of ASF were detected in September 2021 in Sverdlovsk oblast, according to OIE notifications.
Over the following months, pigs in seven backyard herds tested positive for the virus. Around 1,060 animals were directly involved in these outbreaks, in herds of between four and 261 pigs. The most recent reported outbreak started at the end of January. Russian authorities declared the disease situation "resolved" in this region in early April.
Last week, a promising vaccine to protect pigs against ASF passed crucial safety tests in the U.S.
View our continuing coverage of the global African swine fever situation.
Japan reports further CSF outbreaks
Over the second half of April, Japan's veterinary authority confirmed to the OIE outbreaks of CSF on three commercial pigs farms. All these affected premises were in Kanto. On the largest island, Honshu, this region equates to the Greater Tokyo area.
First came two outbreaks in Ibaraki prefecture. Affected were a herd of 1,000 animals in in the Ishioka city area, and 2,900 pigs near Shirosato town. Most recent outbreak was confirmed on April 21 in the Ota city district of Gunma prefecture.
These two prefectures are among 39 in Japan where CSF vaccination of domestic pigs is practiced.
Latest cases bring to four the number of CSF outbreaks on Japanese farms over the past month. Directly impacted through mortality or culling have been 8,100 pigs.
Based on official notifications to the OIE, 80 CSF outbreaks have occurred in Japan since 2018, along with 4,183 infections in wild boar. Prior to September 2018, Japan had been free of CSF since 1982.
Like ASF, CSF (hog cholera) is a notifiable disease that affects members of the pig family, according to the OIE. Both diseases can cause devastating losses in domestic and wild populations. They do not impact human health. Despite the similar names, CSF and ASF are caused by unrelated viruses.