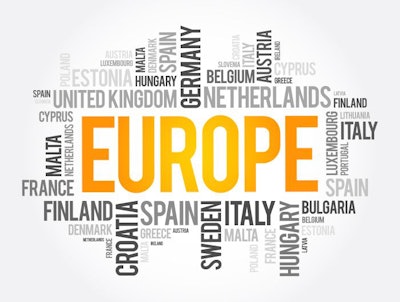 Chance of African swine fever (ASF) outbreaks among domestic pigs ranges from negligible to probable, depending mainly on the level of infection in nearby wild boar, and on farm biosecurity standards, according to a recent risk assessment from Germany.
The risk of infection with the African swine fever (ASF) virus to free-range domestic pigs from wild boar depends mainly on location and the level of biosecurity applied.
This is the main conclusion from a recently published risk assessment by Germany's veterinary agency, the Friedrich-Loeffler Institute (FLI).
Within Europe, ASF virus was first detected in Georgia in 2007, FLI reports, and the first case in Germany was picked up in the eastern state of Brandenburg in September 2020. Since then, infected wild boar have been detected also in the neighboring states of Saxony and Mecklenburg-West Pomerania.
As definitions of the term "free-range" vary across Europe for domestic pigs, FLI states that it is not possible to offer a risk assessment that is universally applicable for the region. However, it has developed a general framework for the assessment of risk, based on the proximity of infected wild boar, and the level of biosecurity applied on the farm.
So, for example, the risk of infection to domestic pigs is described as "negligible" in areas where ASF has not been detected ("buffer zones"). Even in restriction zone 1 — where the infection is present in wild boar — FLI assesses the risk of infection to domestic pigs kept outside as "low."
However, this categorization depends on the protective double fencing to exclude wild animals being intact, and high levels of biosecurity applied. In contrast, FLI considers the risk of infection to be "probable" where biosecurity is poor and there are infected wild boar nearby.
Further ASF cases detected in Germany's wild boar
So far, 3,839 wild boar have tested positive for the ASF virus, according to FLI (as of April 29). Infections have been confined to the three states mentioned previously.
This month, two more wild boar tested positive for the ASF virus in Mecklenburg-West Pomerania. According to Schweine, they were found in the same district as previous cases in the state — Ludwigslust-Parchim — but outside the disease "core area." This led to an extension of the control area by moving the double fencing that restricts the movements of wild boar.
These latest cases bring to 21 the number of infected wild boar found in this state, reports this source.
Furthermore, there have been 2,520 confirmed cases in the wild population in Brandenburg (as of April 21), and 1,243 in Saxony (as of April 25).
Since 2020, there have been just four outbreaks of ASF among Germany's domestic pigs. The most recent cases were detected in November 2021.
Europe's wild boar outbreaks pass 3,000
So far this year, 3,134 outbreaks among wild boar have occurred in Europe. This is according to the Animal Disease Information Notification System operated by the European Commission (EC; as of April 22). One or more cases have been detected in 14 countries.
So far recording the most outbreaks in 2022 has been Poland (992), followed by Germany (678), Romania (272), Slovakia (260) and Bulgaria (231). Also registering new cases through this system were Estonia, Hungary, Italy, Latvia, Lithuania and North Macedonia.
During the whole of 2021, 12 countries registered with the EC one or more ASF outbreaks in wild boar — a total of 12,150 outbreaks.
Latest official report from the Italian veterinary authority to the World Organisation for Animal Health (OIE) outlines four new ASF cases in wild boar. They bring the nation's total cases so far this year to 104.
All these recent cases were found in provinces in the northwest of the country where previous outbreaks have been reported. These are Alessandria in the Piedmont (Piemonte) region, and Genova in Liguria.
Poland's chief veterinary office has confirmed 878 outbreaks of ASF in wild boar so far this year. Most recent cases involved 27 animals between March 18 and April 11. They were found in seven of Poland's 16 provinces.
The EC does not monitor the animal health situation in Russia.
However, the Russian animal health agency has registered a further 30 new ASF cases in wild boar with the OIE. According to this official report, all these animals were found dead at one location in the Saratov region in mid-April. This oblast is part of the Volga federal district.
ASF situation among European pig herds
As of April 22, eight countries had officially confirmed one or more ASF outbreaks in swine this year. This is according to the EC's notification system.
By that date, the region's outbreaks in commercial and backyard pigs had reached 153. Of this total, 135 were reported in Romania, followed by Serbia with 11 outbreaks.
For comparison, 11 nations notified the EC of a total of 1,874 outbreaks during the whole of 2021. Worst affected last year too was Romania, which accounted for 1,676 of the total.
In recent days, Romania's veterinary authority has registered 10 more outbreaks of ASF among its domestic pigs. In one case, an infected pig carcass was found dumped in a public place. All other outbreaks affected backyard herds, each comprising between one and 51 animals.
Disease events reported closed in Moldova, Ukraine
At the end of 2020 and in early 2021, wild boar and domestic pigs in three regions of Moldova tested positive for the ASF virus.
In April, Moldovan authorities declared to the OIE that the disease was "resolved" in three western districts — Falesti, Glodeni and Riscani. Earlier this year, however, ASF was detected on in one backyard herd and some wild boar in the northernmost district of Briceni. Also affected was a small farm in Riscani.
Also recently notifying the OIE that ASF has been resolved in one region is Ukraine. No new cases have been detected in the northern oblast of Chernihiv since January.
View our continuing coverage of the global African swine fever situation.