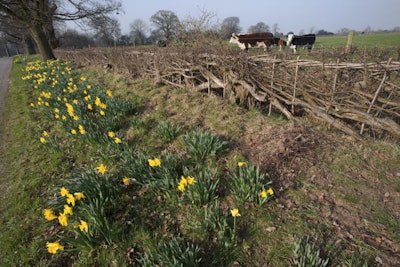 A joint approach between biology and chemistry is required to investigate the effects of plant extracts as potential replacements for antibiotics as growth promoters in animal feeds.
That is the main conclusion reached by researchers in the United Kingdom who have been examining the effects of an extract from the daffodil plant on rumen digestion in cattle and sheep. Their work, published recently in Scientific Reports, may also help to explain why studies into the efficacy of plant extracts sometimes bring inconsistent results.
Small changes to the chemical structure of the natural alkaloid in daffodils, haemanthamine, resulted in very different effects on rumen fermentation in the study by scientists at Scotland's Rural College (SRUC) Edinburgh, the University of Bangor, and Aberystwyth.
Haemanthamine is among a group of natural plant compounds that have potential to treat protozoal diseases, and some have also been found to have antibacterial and antifungal activities.
The study looked at the effects of nine slightly different haemanthamine structures on rumen protozoa and fermentation pattern in vitro, using digestive fluid from dairy cows.
All of the compounds had antiprotozoal effects, but treatment and dose affected the production of volatile fatty acids (VFA), ammonia and methane. These are key changes that could impact the health, productivity and efficiency of the host animal — as well as the environment, as ammonia and methane have global warming effects.
"It was very surprising to find that apparently similar compounds could have such different impacts on rumen digestion," said lead author of the study, Eva Ramos-Morales of SRUC. "This study highlights the need to standardize processes and obtain plant extracts with consistent chemical composition in order to maximize the positive effects in animals."
"The role of organic chemists in separating naturally occurring compounds from agricultural waste products is key to developing new environmentally sustainable materials," said co-author Paddy Murphy of Bangor University. "In the future, we hope to extract metabolites from daffodil byproducts that will be of interest to the pharmaceutical industry."
The full paper — titled "Slight changes in the chemical structure of haemanthamine greatly influence the effect of the derivatives on rumen fermentation in vitro" — was published last month.
The gut plays a critical role in animal health and well-being. Ways of improving the intestinal microbiota in poultry and other livestock through dietary interventions are explored in an article in the latest edition of Feed Strategy.
As well as their impacts on animal health, recent research shows that the protozoa and bacteria of the rumen can help to lower methane emissions.