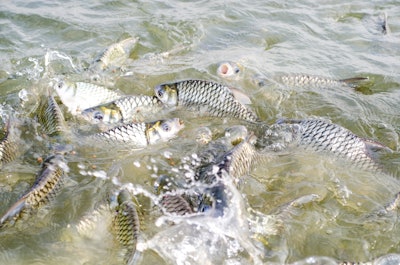 Komprach Sapanrat | Dreamstime.com
Ground has been broken on the Uganda's first feed mill dedicated to feed production for fish farming.
For the landlocked East African state, this represents its first facility exclusively for aquaculture feed production.
This week, a ceremony marking the first stage of construction was held in Njeru, reports The Independent of Uganda.
After recent feed mill investments in South Africa, Egypt, Ethiopia, Ghana and Ivory Coast, global animal feed company Royal De Heus was demonstrating its belief in the future for the continent of Africa.
In Uganda, the company operates two brands: De Heus for aquafeed, and Koudijs for other livestock feeds.
The new plant has an annual capacity of approximately 50,000 metric tons (mt).
Much of the country's aquafeed requirement is imported. However, the new facility will increase the contribution of domestic production, as well as encouraging local farmers to grow more feed crops such as corn, cassava and soybeans.
Uganda: potential for growth of aquaculture

According to De Heus, there is huge potential for aquaculture in Uganda, and its latest investment will contribute to national food security.

For the growing human population, fish is an important source of protein. While fishing is unable to increase to meet local demand, there is potential for aquaculture to expand.

Among the country's advantages for fish farming are its substantial lakes, and water temperatures that are suitable for year-round production.

In 2019, aquaculture production in Uganda amounted to around 103,000 mt, according to the United Nations' Food and Agriculture Organization (FAO). Of this, around 71,000 mt was Nile tilapia, and 31,000 mt of African catfish.
More on De Heus
With annual production of around 8 million metric tons in 2021, De Heus is one of the largest feed companies in Europe. This is according to the latest Feed Strategy Top Feed Companies survey.
Based in The Netherlands, De Heus is a global player in compound feed, premixes and concentrates for livestock and fish.
Through its own operations as well as joint ventures and partnerships, it is active in 75 countries, with sales and production sites in Europe, South America, Asia and Africa. International joint ventures have been formed in Ukraine, China, Belgium, Brazil, Egypt, Ethiopia and Russia.
One year ago, De Heus announced it was investing to support the agricultural supply chain in Cambodia.
In 2021, the firm acquired a feed company in Vietnam, and began construction of a feed mill in Ivory Coast.