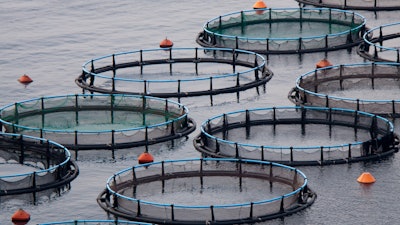 Kyriazis Stefanos | iStockPhoto.com
A bipartisan bill introduced in the U.S. House of Representatives would support and boost the aquaculture industry.
The Sustaining Healthy Ecosystems, Livelihoods and Local Seafood (SHELLS) Act will create a program office for aquaculture within the U.S. Department of Agriculture (USDA) to promote blue carbon ecosystems, protect food security, and bolster shellfish harvesters and seaweed farmers. It will also establish an Aquaculture Advisory Committee to oversee program activities, support the development of best practices, provide technical assistance, and acknowledge the history, use and preservation of Indigenous and traditional aquaculture practices and ecological knowledge.
The SHELLS Act was introduced by Reps. Chellie Pingree (D-Maine), Suzanne Bonamici (D-Oregon), Rob Wittman (R-Virginia), and Frank Pallone (D-New Jersey).
"A thriving domestic aquaculture industry will help us provide healthy and affordable seafood to consumers nationwide," Pallone said. "The SHELLS Act creates an Office of Aquaculture within USDA to ensure the department has the vital resources it needs to strengthen our food system, promote sustainable seafood, and support American aquaculture."
Creating the office within the USDA would better support the industry, the bill's sponsors said.
"More needs to be done at the federal level to support our aquaculture farmers and harvesters, so we can help ensure the industry reaches its full potential now and into the future," Pingree said. "By establishing a USDA office dedicated to supporting aquaculture, the SHELLS Act will uplift aquaculture farmers and contribute to building a more sustainable seafood system."
The bill would authorize funding of US$25 million per year for 2024-28.
A separate bill that would support the aquaculture industry was introduced recently in the U.S. Senate, with the introduction of companion legislation in the U.S. House expected soon. The Advancing the Quality and Understanding of American Aquaculture (AQUAA) Act would increase production of sustainable seafood offshore in U.S. federal waters and create economic opportunities for American communities coast to coast.