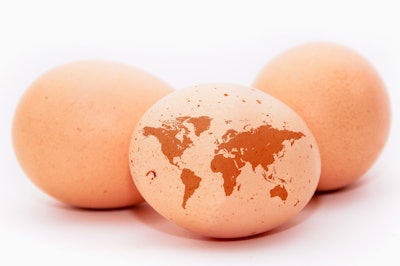 igor stevanovic | BigStockPhoto.com
Chick embryos do not feel pain before the 13th day of incubation, revealed a recent study commissioned by the German Federal Ministry of Food and Agriculture (BMEL). The animal welfare finding could impact layer chick cull bans in several countries.
The chick sexing challenge
Approximately 6-7 billion male layer chicks are culled each year, a major animal welfare and economic concern for the layer industry. Animal welfare organizations have pressured the egg industry to find an alternative approach.
Egg producers around the world have pledged to adopt in ovo sex sorting technology as soon as it is available.
Current laws prohibit male chick culls after day six of incubation, however the BMEL study recently found that chicken embryos do not feel pain before the 13th day of incubation.
"According to the current legal situation, from January 1, 2024, it will be forbidden to stop the incubation of male chicken embryos from the 7th day of incubation by determining the sex in the hatching egg. The drafting aid presented provides for this ban to take effect from the 13th day of incubation instead," the ministry wrote.
"This finding is very important concerning animal welfare," said Mariana Pradillo, marketing manager, Orbem GmbH. "In ovo sexing is a great alternative where the sex of the embryo can be determined and the incubation ended for the males, when pain perception was not developed."
How in ovo chick sexing works
One technology solution to in-ovo sex developing embryos uses MRI (Magnetic Resonance Imaging) and artificial intelligence (AI) to identify male chicks.
"MRI is typically slow technology used in the medical field," Pradillo explained, "AI helps us to speed up the process of scanning and classification, making MRI accessible for industrial applications. When we scan the eggs, AI detects the morphological differences in the embryo and sexes them."
The system can identify internal and external features of each egg without touching them at a 99% accuracy rate.
"MRI is a really relevant and interesting thing because we can see inside the egg, and with AI everything is automatic, so we can automatically identify infertile eggs," Orbem CEO, Dr. Pedro Gomez said during the 2021 Poultry Tech Summit Webinar Series.
"Because the poultry industry is being driven by data, and decisions are being made from data. We hope that this camera system provides new sources of information, and that waste can be reduced by using it."
Attend the 2023 Poultry Tech Summit
Join an exclusive international gathering of industry-changing innovators, researchers, entrepreneurs, technology experts, investors and leading poultry producers at the 2023 edition of Poultry Tech Summit on November 6-8 at the Hilton Atlanta Airport in Atlanta, Georgia.
Attendees can expect the same groundbreaking innovation and insightful presentations that made the previous events well-attended with deep dialogue on new prospective solutions and next-generation technologies. Poultry Tech Summit focuses on the transition of innovative technologies into commercial applications to advance the poultry industry.
Registration for this event is now open. Early bird savings are available.