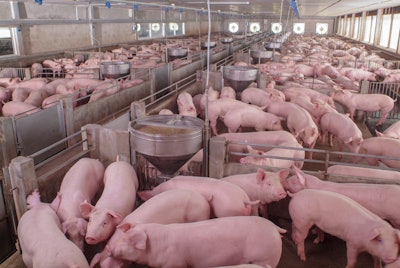 chayakorn lotongkum | iStock.com
Pork producers and industry advocates say they are frustrated and disappointed by the U.S. Supreme Court's decision to uphold California's Proposition 12, which bans the sale of pork from hogs that don't meet certain production standards. Meanwhile, animal rights activists are hailing the decision as a victory.
The Supreme Court's 5-4 opinion issued May 11 in National Pork Producers Council v. Ross affirmed a lower court's ruling against NPPC, which sought to invalidate the law, saying it violates the Commerce Clause and fails the Pike balancing test.
"We are very disappointed with the Supreme Court's opinion," said Scott Hays, NPPC president and Missouri pork producer, in a statement. "Allowing state overreach will increase prices for consumers and drive small farms out of business, leading to more consolidation."
Prop 12, which took effect January 1, prohibits in California the sale of pork from hogs whose mothers were raised in pens — anywhere in the world — that do not comply with the state's highly prescriptive housing standards. It applies to any uncooked pork sold in the state, whether produced there or outside its borders. Nearly all pork produced in the United States fails to meet California's standards.
Pork producers have warned the law will result in higher prices for pork products and will cause some producers to go out of business.
"The health and safety of their pigs are a top priority for Iowa pig farmers, and we are frustrated to see the Supreme Court uphold Prop 12," said Iowa Pork Producers Association President Trish Cook, in a statement. "This ruling sets a bad precedent, enabling other states to regulate commerce outside their boundaries. Consumers, especially low-income ones who rely on affordable nutritious pork to feed their families, will ultimately suffer due to higher food prices. Some small and medium-sized producers who are already dealing with high feed costs and inflation will also sadly go out of business as they struggle to comply."
U.S. Sen. John Boozman, R-Arkansas, ranking member of the U.S. Senate Committee on Agriculture, Nutrition, and Forestry, reflected Cook's sentiment in a statement.
"The court's decision to uphold California's extremely misguided Proposition 12 is bad news for all Americans. It means that voters in one state, in this case an extremely liberal one, can determine regulations for any industry outside its borders and, in turn, raise prices on products for the rest of the nation," he said. "At a time when food inflation remains historically high, California has decided that Americans will need to pay more to add animal protein products to their plate, while threatening the livelihoods of family farms across the country."