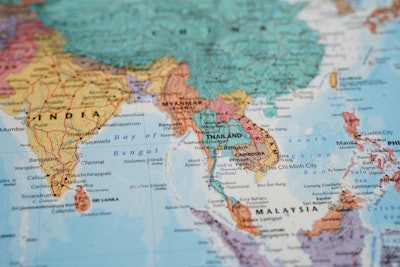 sweet_tomato | BigStock.com
Within the Asian region, new cases of African swine fever (ASF) in domestic pigs have been confirmed in the Philippines and Russia's Far Eastern district, while there have been further outbreaks in wild boar in India and South Korea. In Japan, further cases of classical swine fever are reported among the wild population.
Since the ASF virus was first detected in Asia in August 2018, the disease has affected 17 countries in the region, as well as spreading to Europe, Africa and the Caribbean.
More than five years on, the number of outbreaks among wild and domestic pigs in Asia appears to be in decline. However, disease hot spots remain, and ASF remains a threat to pig owners and pork supplies. In the Philippines, local media report a recovery from ASF in several areas, where hog production is slowly resuming.
For example, in the Western Visayas region, some hog raisers in Bacolod City have started to receive financial compensation for the loss of their animals to ASF, according to the Philippines News Agency (PNA). Around 800 pigs died of the disease in this area in recent months.
In Iloilo province in the same area, many backyard farmers are undergoing evaluation to participate in an ASF recovery program. This requires premises to be free of ASF cases for 40 days, as well as cleaning and disinfection procedures and the provision of a perimeter fence, footbaths and an approved biosecurity protocol. Once validated, former hog owners will begin a gradual process of restocking.
Restocking is already underway in one city in Ilocos Norte. In this province in the Ilocos Region in northwestern Luzon, PNA reported this month that some hog raisers have been provided with one piglet and a starter pack of feed and medications. Owners are urged to monitor their animals' health carefully and to report promptly to the authorities any signs of disease.
Gradually emerging from a previous ASF crisis that started in July is Palawan. This province is in the Mimaropa region, which comprises an island chain to the southwest of Luzon. Up to the end of August, PNA reports that around 300 pigs died of the disease up to the end of August.
Having successfully prevented the entry of the ASF virus since 2019 through border controls, surveillance and information campaigns, these were the first confirmed cases in Mimaropa.
However, PNA reports this week that a "state of calamity" has been declared in two towns in Oriental Mindoro, which belongs to the same region. Three ASF cases have been confirmed in Roxas, and elevated mortality is reported in Mansalay.
As of September 30, there is an active ASF situation in 18 provinces in 10 regions of the Philippines, according to the national Bureau of Animal Industry.
Since 2019, this source records that outbreaks have been confirmed in 69 of the country's 82 provinces, and all 17 of its regions.
South Korea confirms new cases
At the end of September, four cases of ASF were identified at a pig farm in South Korea, according to the agriculture ministry. The virus was detected as part of the national surveillance program at a premises with around 1,500 animals in Hwacheon, a county in the northeastern province of Gangwon.
Tests of nearby farms and those with a link to the infected premises revealed no further cases of the disease.
This was South Korea's first outbreak in domestic swine since mid-July, and it brought the total for 2023 so far to 10. ASF has been detected in 38 pig herds since the first cases in 2019. Directly impacted by these outbreaks have been more than 131,400 pigs.
After confirmation of this outbreak, the agriculture ministry announced a five-month special disinfection campaign, reported Yonhap. The program aims to cover the peak October-to-February period for ASF as well as avian influenza in poultry.
So far in South Korea, the total number of ASF-infected wild boar has reached 3,292, according to Pig & People (as of October 9). This is an increase of 113 from a previous update dated September 13. Infected wild boar have been found in four provinces.
ASF situation elsewhere in Asia
In late September, presence of the ASF virus was confirmed at a farm in Primorskiy krai in Russia's Far Eastern federal district.
According to the official notification to the World Organisation for Animal Health (WOAH), affected was a unit described as a "backyard" with 309 pigs. Since the first cases in this outbreak in May, the virus has hit four premises, including two large commercial units, all located in the same district. In July, one wild boar in Primorskiy was also found to be infected.
A week ago, local media reported several wild boar found dead in southern India had tested positive for the ASF virus.
According to Mathrubhini, large numbers of wild boar were found dead in a forest in the Kozhikode district of the state of Kerala.
There are no pig farms within one kilometer of the wild boar outbreak, reported ETV Bharat.
Since the start of this year, ASF cases have been reported in other districts of Kerala.
According to the latest update on the ASF situation in Asia by the United Nations' Food and Agriculture Organization, outbreaks had been confirmed in eight provinces of Vietnam between January and July. At the latter date, there were ongoing outbreaks in more than 50 communities.
View our continuing coverage of the global African swine fever situation.
Japan reports more CSF cases in wild boar
Covering the period April 1 to June 30, a total of 291 wild boar in Japan tested positive for classical swine fever (CSF).
According to the latest notification to WOAH, cases were found in 25 prefectures. Located across six different regions, previous cases had been confirmed in all of these prefectures.
Registering the most new infections over this period was the Chubu region in central Honshu with 120 cases. This total includes 67 cases in the worst-affected prefecture of Gifu, and 35 in Shizuoka.
The country's most recent CSF outbreaks in domestic pigs occurred at the end of August. The two outbreaks in Saga prefecture were the first on the southern island of Kyushu.
Like ASF, CSF (hog cholera) is a notifiable disease that affects members of the pig family, according to the WOAH.
Both diseases can cause devastating losses in domestic and wild populations, while not impacting human health. Despite the similar names, CSF and ASF are caused by unrelated viruses.