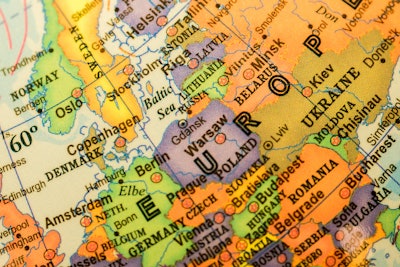 puripat | Bigstock.com
While reports suggest a vaccine to protect pigs against African swine fever (ASF) is likely to be authorized in Vietnam in the near future, this looks an unlikely prospect in Europe in the foreseeable future.
Last week, reports emerged from Vietnam that the government was close to authorizing the use of vaccine against ASF.
This will be the world's first vaccine against this disease, which affects domestic pigs and wild boar, according to Reuters. The report indicates that global veterinary experts are expecting approval of the vaccine by the Vietnamese authorities soon.
If found to be effective and safe, authorization of a vaccine could be a game-changer in the fight to control the ASF virus, which has been infecting swine worldwide over the past several years.
However, it appears that there is no imminent prospect of ASF vaccination being approved for use in Germany.
In September 2020, first cases of ASF were confirmed in the east of country. Since then, the infection has spread in the wild boar population, and there have been a handful of outbreaks in domestic pigs.
As a result, Germany puts a higher priority on a vaccine to protect wild boar ahead of one for domestic pigs, reports Schweine. Furthermore, as a European Union state, any vaccine will have to meet high safety standards and be subjected to a thorough approval process before it will be permitted for use in Germany.
3 European states report new ASF cases in domestic pigs
So far in 2023, the total number of confirmed ASF outbreaks on farms and in backyard herds is at 198. Covering EU member states and immediate neighbors, this is according to the Animal Disease Information System of the European Commission (EC; as of June 9).
Registering the most outbreaks in this category so far are Romania and Serbia, each with a total of 86 so far this year. Next comes Moldova, but there have been no cases there since March.
Since the previous EC report (dated June 3), Greece and Romania have recorded further outbreaks through this system — one and four, respectively.
Between one and three outbreaks in domestic pigs have also been recorded through this system by Germany, Greece, Italy, Poland and Ukraine.
For comparison, 12 European states registered a total of 537 outbreaks in this population with the EC in the whole of 2022. Of these, 329 were in Romania.
Over the past week, Poland and Romania have officially confirmed new outbreaks in domestic swine.
According to official notifications to the World Organisation for Animal Health (WOAH), nine more pig herds have been infected with ASF in Romania. Each comprising between one and 46 pigs, all were described as backyard herds, located in five different counties. In another county, two pig carcasses found dumped in a public area also tested positive for the ASF virus.
Meanwhile, Poland's veterinary authority has registered with WOAH the country's first outbreak of ASF in domestic pigs this year. Confirmed in mid-April, this affected a herd of 16 animals in the su0thwestern province of Lower Silesia (Dolnoslaskie).
A second outbreak of the year has been reported by the Polish chief veterinary office. Last week, ASF virus was detected among 94 pigs at a farm in Greater Poland (Wielkopolskie). This province is located in central-western Poland.
ASF outbreaks in European wild boar approaches 4,700
Already this year, the total number of ASF outbreaks across Europe has reached 4,683, according to EC's information system (up to June 9). This the latest total from 16 countries registering one or more outbreaks through this system since January 1. Since the EC's previous update dated June 3, 10 states have reported new cases in this population.
Registering the highest number of outbreaks in this category so far this year is Poland with a total of 1,786. Following are Germany (now with 650), Italy (578), Slovakia (446), Hungary (302) and Romania (212).
Also reporting new ASF outbreaks to the EC System since the previous update were the Czech Republic (Czechia), Latvia, Lithuania, North Macedonia and Slovakia.
In 2022, there were a total of 7,442 outbreaks of ASF in wild boar across 15 European countries covered by the EC System.
More on the ASF situation in central European wild boar
The latest report from chief veterinary office in Poland puts the country's total outbreaks at 1,745 so far this year. Covering the period April 21 to June 15, 579 outbreaks were confirmed, affecting 1,010 individual wild boar in 12 of the nation's 16 provinces.
Since ASF returned to the Czech Republic at the end of 2022, 39 wild boar have tested positive for the virus, according to the state veterinary service. Of these, 11 cases were confirmed over the course of just seven days (June 7-14). All of the country's cases since December have been found in one of two districts in the northern region of Liberec.
Since ASF virus was first detected in Germany in September 2020, virus-positive cases in the country's wild boar have reached 5,395. This is according to the national veterinary agency — the Friedrich-Loeffler Institute (FLI), and it includes 77 cases confirmed over the previous 28 days. Cases in the wild population have been confirmed in three of Germany's eastern states.
So far this month, FLI has reported 33 cases of ASF in wild boar of different ages in two districts in each of the states of Brandenburg and Saxony.
In contrast, the veterinary authority of Moldova has declared to WOAH that the country's only ASF outbreak series has been "resolved."
At the end of April, one infected wild boar was found dead in the southern district of Cantemir. No further cases have been reported there since that time.
Italy's Lombardy region on alert
Latest reports to WOAH from the animal health agency in Italy cover eight new cases in the wild boar population. Of these, five were in the northwestern regions of Piedmont and Liguria, two in Rome-Lazio, and one in the southern region of Campania.
Spread of the ASF virus among wild boar — particularly as the virus has jumped in recent months to Campania and another southern region, Calabria — has alarmed Italy's pig farmers.
Particularly on alert are those in the country's center for pig production, Lombardy. Concern is acute in Pavia, a province that borders Piedmont, reports AgroNotizie.
View our continuing coverage of the global African swine fever situation.