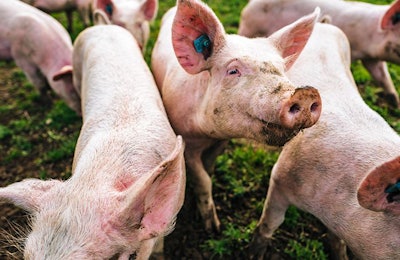 After a six-month hiatus, domestic pigs in Poland have tested positive for the African swine fever virus.
For the first time since September 2022, the African swine fever (ASF) virus has been detected in domestic pigs in Poland.
According to the nation's chief veterinary officer, affected was a herd of 16 pigs in Luban. Presence of the ASF virus was confirmed on April 12. Located in the southwestern province of Lower Silesia, the outbreak appears to be in a county that borders the Czech Republic (Czechia).
During the whole of last year, the Polish authority recorded 14 ASF outbreaks in domestic pigs. The most recent outbreak was in early September, although many cases have been confirmed in the wild boar population in the intervening months.
2 other European states record new ASF cases in domestic swine
Poland has become the seventh state in Europe to have registered one or more outbreaks of ASF among domestic pigs. This is according to the latest update of the Animal Disease Information System of the European Commission (EC; dated April 14).
Registering the most outbreaks in this category so far is Romania with 62 so far this year. Next comes Serbia — now with 39 reported outbreaks since the start of January. The Serbian total has risen by 10 since the EC's previous update dated March 31. Meanwhile, Moldova's total remains unchanged since March 20 at 15. Furthermore, the EC has been notified of two outbreaks in Ukraine, and one each in Germany and Italy.
Further detail is provided by reporting by national animal health agencies to the World Organisation for Animal Health (WOAH).
Over the past 10 days, the Serbian animal health agency has registered eight new outbreaks in domestic pigs with WOAH. Affecting backyard herds of between one and 12 animals, the outbreaks were confirmed between mid-February and March 23. Premises were located in three districts — Pomoravlje, Pcinja and Branicevo — in the eastern half of the country.
During the first week of April, four further ASF outbreaks were confirmed with WOAH by the Romanian veterinary agency. With each affected herd comprising between two and 10 pigs, the premises were located in three counties in central and southern Romania.
ASF 'resolved' in areas of 3 European nations
This month, the animal health agencies of three European nations have declared to WOAH that the ASF situation has been "resolved" in specified areas.
For Ukraine, this covers two southern oblasts — Kherson and Dnipropetrovsk. In each of these provinces, one small herd of domestic pigs tested positive for the ASF virus within the past few weeks. However, the infection does not appear to have spread further.
In late February, two backyard pigs in the northwest Moldovan district of Edinet were involved in an ASF outbreak. This appears to be an isolated event, and the national veterinary agency has reported it closed. More recently, new cases have been detected in other small pig herds in three other districts of Moldova.
In Russia's Southern federal district, the ASF situation is also reported to be "resolved" in the Volgograd region. This came after a single outbreak affecting a non-commercial pig herd approximately one month ago, according to an earlier WOAH notification. The animal disease situation in Russia is not covered by the EC's System.
ASF cases in European wild boar approach 3,300
Already this year, the total number of ASF outbreaks across Europe has reached 3,296, according to EC's information system (as of April 14). Sixteen countries have registered one or more such outbreaks through this system since January 1, including 10 nations since the EC's last update dated March 31.
Registering the highest number of outbreaks in this category so far this year is Poland. With an increase of 164, the Polish total has reached 1,184. It is followed by Germany (now with 532), Italy (316), Slovakia (308), Hungary (220) and Romania (171).
Also reporting new ASF outbreaks to the EC System since the previous update on March 31 were Bulgaria, Estonia, Latvia, Lithuania, Serbia and Slovakia.
Over the past 10 days, the Polish veterinary office has recorded a further 64 outbreaks in wild boar. Involving 112 animals, these were suspected in the period March 15 to April 4. These bring the country's total ASF outbreaks in this population to 1,098 so far this year, according to this source.
In Germany, the national veterinary agency — the Friedrich-Loeffler Institute — confirms 45 cases of ASF in wild boar since the end of March (as of April 14).
Since ASF was first detected in Germany in September 2020, virus-positive cases in the country's wild boar stand at 5,244. This is according to the Institute on April 14. The figure includes 95 cases confirmed over the previous 28 days.
Germany, Italy aim for greater wild boar control
Two German states have recently announced new measures aimed at halting the spread of ASF, according to Schweine.
In the east of the country, cases of ASF have been recorded in the wild boar population of Saxony since October 2020. The state administration has recently announced plans for a further 165 kilometers of fencing to control the movement of wild boar. This is in addition to more than 700 kilometers of permanent fencing, and 70 kilometers of electric fencing already in position in Saxony. Furthermore, funding of EUR1.3 million (US$1.4 million) will be provided to fund a strategy to reduce wild boar numbers in the state. In collaboration with local hunters, the scheme has been extended to December 2024.
This month, a three-day exercise took place in Baden-Wurttemberg. According to the same source, this involved testing emergency preparedness, as well as raising awareness of ASF across this southwest German state.
Meanwhile in Italy, the spread of ASF in wild boar is causing concern in the national pig industry.
Gradually, the red "infection zone" has been spreading in the wild population in the northwest of the country, reported AgroNotizie this month. With more than 500 confirmed cases in Piedmont and Liguria, fears are being expressed about the threat to nearby Emilia-Romagna and Lombardy. Already, restricted zones extend into some provinces in these regions. They are important centers for Italian pig production. Any ASF infections there could destroy the nation's pork exports for a pronged period.
Regional authorities see fencing to control wild animal movements as expensive and difficult to maintain. As a result, officials have difficult decisions to make that will satisfy the demands of pig farmers with those of animal rights campaigners.
View our continuing coverage of the global African swine fever situation.