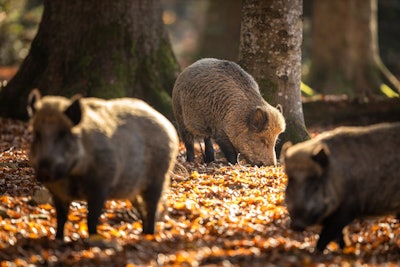 Despite ongoing outbreaks in wild boar, some easing of African swine fever controls has been announced in Germany and Poland.
Since the end of March, authorities in Germany and Poland have announced the lifting of disease controls in some selected areas. This is despite ongoing African swine fever (ASF) outbreaks among their respective wild boar populations.
In Germany, the ASF situation has calmed down sufficiently for four core zones to be "dissolved" in the eastern state of Brandenburg, reports the national industry association, Schweine.
The country's first ASF cases were detected in this state in September 2020. Subsequently, 11 core disease zones were established. As control measures have become effective in controlling the spread of infection in wild boar, the number of zones has been reduced by a further four, leaving just four still in place. Final decisions will be made by individual district authorities.
Assuming that the local administrations agree, the lifting of restrictions means farmers will again be allowed to keep domestic pigs in free-range systems in these designated areas.
However, it is stressed that strict biosecurity measures must still be adhered to, and fencing to limit the movement of wild boar is to remain in place.
ASF outbreaks could still occur at any time in wild boar, the Brandenburg state secretary has warned.
Meanwhile, in Poland, the chief veterinary officer also announced changes to the ASF zoning at the end of March.
As the latest in a series of such changes, parts of three provinces — Masovia, Lubusz, and Swietokrzyskie — are to be newly designated as "restricted area I" instead of "restricted area II" formerly. Furthermore, two counties in Holy Cross province become "ASF-free areas."
Recently, the Polish authorities proposed a law that would reduce the biosecurity requirements applicable for small herds of domestic pigs. The proposal was met with concerns from the commercial sector.
3 European states record new cases in domestic swine
So far this year, six countries in Europe have registered one or more outbreaks of ASF among domestic pigs. This is according to the latest update of the Animal Disease Information System of the European Commission (EC; dated March 31).
Registering the most outbreaks in this category so far is Romania with 53 so far this year. Next comes Serbia — now with 29 reported outbreaks since the start of January. Moldova's total stands at 15.
Up to the start of March, the EC was notified of two outbreaks in Ukraine, and one each in Germany and Italy.
Further detail is provided by reporting by national animal health agencies to the World Organisation for Animal Health (WOAH).
Over the past week, five further outbreaks have been confirmed in Romania. Affecting a total of 32 pigs, all were in backyard herds.
ASF cases in European wild boar approach 3,000
Already this year, the total number of ASF outbreaks across Europe has reached 2,969, according to EC's information system (as of March 31). Sixteen countries have registered one or more such outbreaks through this system since January 1, including 12 nations since the EC's last update dated March 19.
Registering the highest number of outbreaks in this category so far this year is Poland. With an increase of 145, the Polish total has reached 1,020. It is followed by Germany (now with 486), Italy (286), Slovakia (267), Hungary (209) and Romania (171).
Also reporting new ASF outbreaks to the EC System since the previous update on March 19 were the Czech Republic, Latvia, Lithuania, Moldova, Serbia and Ukraine.
Over the past week, the Polish veterinary office has recorded a further 179 outbreaks in wild boar. Involving 312 animals, these were suspected in the period March 1-28. They bring the country's total ASF outbreaks in this population to 1,034 so far this year, according to this source.
In Germany, the national veterinary agency — the Friedrich-Loeffler Institute — has confirmed 21 new cases of ASF in wild boar so far this month (up to April 6). Of these, 12 were found in Brandenburg, and nine in the adjacent state of Saxony.
Extension to Italy's ASF control zone expected
In Italy, ASF has been detected for the first time outside the established ASF control zone in the province of Savona, reported La Guida last week.
Twelve months earlier, disease controls were intensified in northwestern Italy. According to this source, there have been 193 confirmed cases in Liguria, and 332 in neighboring Piedmont — a total of 525 cases.
In response to the spread of the latest spread of infection, the disease control zone is likely to be extended, reported Il Piccolo. This could impact access to the area for activities such as hunting and mushroom collection.
Based on WOAH notifications, there have been previous ASF cases in the province of Savona since December 2022.
Furthermore, there have been 49 cases among the wild population and on one farm in Italy's Lazio region. There have been no reported outbreaks in this region since September 2022.
ASF developments in western Russia
While Russia is not covered by the EC System, the nation's animal health agency has registered one further outbreak with WOAH.
At the start of this month, presence of the ASF virus was confirmed in a backyard herd of 51 animals in Samara.
Located in the Southern federal district, this oblast has been the location of 13 outbreaks since January 2022. Some of these involved wild boar, including one in December. This appears to have been within 20 kilometers of the latest outbreak in domestic pigs.
To WOAH, Russia's veterinary authority has recently declared the ASF situation "resolved" in the Republic of Astrakhan.
During the month of February, three wild boar found in this oblast — also belonging to the Southern federal district — tested positive for the ASF virus. All appeared to be located within a radius of about 20 kilometers in the same district. Since then, no further cases in the area have been detected.
View our continuing coverage of the global African swine fever situation.