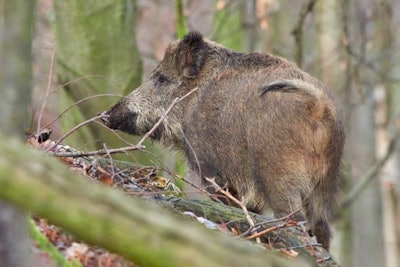 Already this year, outbreaks of African swine fever have been confirmed among wild boar in 15 European countries.
For the first time since April 2020, the African swine fever (ASF) virus has been detected in Greece.
In mid-January, a wild boar found dead in the Central Macedonia region tested positive for the virus, according to the initial notification to the World Organisation for Animal Health (WOAH). Within two weeks, a second infected animal was found in the same area.
Source of the infection is unknown. However, Central Macedonia borders Bulgaria and North Macedonia, where there are ongoing ASF outbreaks in wild boar.
From the WOAH report, the two cases in Greece appear to be within 2 kilometers of each other, and no more than 10 kilometers from a nature reserve in Bulgaria.
Infected wild boar in 15 European states this year
As well as Greece, Moldova, North Macedonia and Serbia have registered their first cases of ASF of the year in their respective wild boar populations. This is according to the latest update of the Animal Disease Information System of the European Commission (EC; dated January 28).
While ASF had not been detected in Greece for more than three years, cases were reported in the other three countries in the second half of 2022.
So far this year, a total of 1,002 ASF outbreaks in wild boar in 15 European states have been confirmed to the EC.
Among the nations registering new cases in this population are Poland (329 outbreaks since January 1), Germany (187), Slovakia (84), Hungary (80), Italy (62) and Romania (60).
Also reporting ASF outbreaks to the EC System over the past two weeks have been Estonia, Lithuania and Slovakia.
Previously, cases in wild boar were confirmed in Bulgaria and the Czech Republic.
Since Germany's first ASF cases in September 2020, its total ASF cases in wild boar has reached 4,899. This is according to the national veterinary agency, the Friedrich-Loeffler Institute (FLI; as of January 27).
Latest data from FLI indicate 210 ASF-positive cases detected over the period January 9 to February 1. All were in wild boar in the eastern German states of Brandenburg and Saxony, where previous cases have been confirmed. Over this period, the majority of infected animals were found in the Spree-Neisse district of Brandenburg, and in Görlitz in Saxony.
3 countries report new cases in domestic swine
As of January 28, the number of ASF outbreaks in domestic pigs registered with the EC System had reached 31.
In addition to 26 backyard herds in Romania, affected have been four in Moldova, and one in Serbia.
Of the latest outbreaks — two in Romania, and one each in Moldova and Serbia — all affected herds comprised between one and nine animals.
No imminent prospect of ASF vaccine in Germany
In recent days, it was reported that authorities in Vietnam are soon to begin the nationwide distribution of an ASF vaccine. The move comes after reports of successful field trials.
According to Schweine from the national industry body ISN, use of the vaccine in Germany looks unlikely at this time.
So far, no application has been submitted to the EU regulatory authority, the European Medicines Agency. Furthermore, according to ISN, the ASF situation in Germany does not warrant urgent vaccination of domestic pigs. Just seven outbreaks have been confirmed in the country's commercial and backyard herds since 2020, and none since July 2022.
Vaccination of wild boar could be a higher priority in the current disease situation. However, this would require extensive safety and efficacy testing for the wild population.
It will be some time before any ASF vaccine is available in Germany, concludes ISN.
View our continuing coverage of the global African swine fever situation.