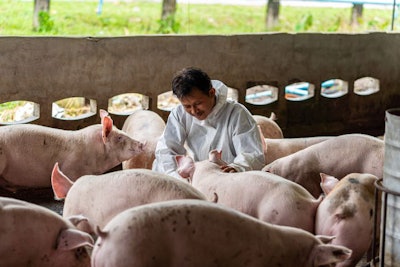 Further outbreaks of African swine fever have been reported in small herds of domestic swine in 8 South and Southeast Asian states, while South Korea has confirmed more cases in wild boar.
In the past month, further outbreaks of African swine fever (ASF) have been officially registered by two South Asian nations.
Since ASF returned to Nepal in March 2022, the number of confirmed outbreaks in domestic swine has risen to 33. This is according to the latest notifications to the World Organisation for Animal Health (WOAH). Directly impacted have been more than 19,900 pigs, of which 16,464 have died.
Starting in early December, the latest outbreak involved 100 animals at a farm in Bheri, a zone in the midwestern region of the country. Previous cases have been confirmed in this zone and region, but not in recent months.
In early November, Bhutan registered with WOAH its first ASF cases after a four-month hiatus.
Over the past two months, the number of outbreaks has risen to six. These have involved 5,658 pigs, 33 of which died and 261 have been culled. Based on these notifications, the infection appears to have spread from Samdrup Jongklar in the southeast of the country to Sarpang in the south. Both districts lie on the border with the Indian state of Assam.
Bhutan's four most recent outbreaks began between November 24 and December 13. Testing positive for the ASF virus were pigs on two commercial farms (with 318 and 1,651 animals), and well as a village herd comprising 1,550 pigs, and a 1,159-strong group in a backyard.
India reports new ASF cases in 4 states
Media in India are reporting new cases of ASF in the northern state of Punjab.
According to Tribune India, cases have been confirmed in the municipality of Nawanshahr, leading the authorities to impose restrictions on the movements of live pigs, pork products and people working with the animals in or out of a 10-kilometer radius of the outbreak.
In 2022, ASF was confirmed in 16 Indian states by local sources up to November.
Within the past few days, The Hindu has reported suspicions of infection in a further state — Tamil Nadu. This comes after the deaths of at least 15 wild boar in a nature reserve in this southern state. An official confirmed that the ASF virus had recently been detected in wild animals at a nearby reserve in neighboring Karnataka. As ASF is deadly to wild and domestic pigs, teams have been sent to retrieve any further boar carcasses for testing and destruction to prevent the further spread of the virus.
Meanwhile, 50 pigs have been culled due to ASF in the central state of Madhya Pradesh, reported India TV News at the end of December. These animals were found within one kilometer of confirmed cases at Hata in the Damoh district. Up to 1,000 more animals within a 10-kilometer radius of the outbreak may also be at risk if the virus is found to have spread.
Last year, ASF was confirmed by Indian media in the Madhya Pradesh city of Rewa in August, and in November at a pig breeding center in Karnataka.
ASF 'hotspot' in the Philippines
In the Western Visayas region, nine areas of the province of Iloilo were in the "red zone" by the end of December. This status is given when a second outbreak is confirmed in any community, according to the Philippine News Agency (PNA). For these "red zones," movements in or out of the area are banned for pig genetic material, live hogs and pig meat products (except those that are cooked or canned and processed). Provincial authorities are focusing efforts on raising awareness of the disease and the importance of biosecurity to backyard hog raisers.
The same source reports the first case of ASF in the region's island province of Guimaras in mid-December.
Other provinces in Western Visayas and neighboring regions have put in place checkpoints and controls to prevent the spread of the virus.
In Aklan province, PNA reports that authorities seized 74 cartons of pork products and eight containing ham. These had no documentation of their origin or health status.
Aklan is free of ASF, as is Cebu in neighboring Central Visayas region. The administration for this latter region has extended a ban on imports of live pigs and pig meat products from Iloilo province for a further six months. This will cover the period up to June 2023, according to PNA.
ASF blamed for tight pork supplies in Malaysia
In Eastern Malaysia, shortages of pork and high prices are being blamed on ASF outbreaks, according to The Borneo Post.
At the end of November, the food minister for the state of Sarawak reported that ASF had hit 34 farms in the division, resulting in the culling of 31,130 pigs. Furthermore, more than 800 backyard owners had lost around 6,300 swine to the disease. Since ASF was first detected in the state in July 2021, the infection had spread to most of its divisions, according to the minister.
Ahead of the New Year celebrations this month, pork traders in Sibu division are calling for more licenses to be issued import pork from other countries to ensure adequate supplies for the festive period.
The same source reports that the neighboring state of Sabah will import 200 metric tons of pork to meet demand over the holidays. Pig herds have been severely impacted by ASF over the past two years.
ASF situation in Russia's Far East
In the country's Far Eastern federal district, ASF has been "resolved" in three regions over the past month. According to official notifications to WOAH, these declarations apply to Primorsky krai, Khabarovsk oblast, and the Jewish Autonomous oblast (Yevrey).
In Yevrey, 14 wild boar testing positive for the ASF virus were found on December 1. The two locations were in the same district, and apparently within a distance of about 10 kilometers. Previous cases in this oblast were in October 2021.
In July 2021, ASF was detected again in Khabarovsk after a two-month hiatus. Up to January of 2022, 21 outbreaks were reported to WOAH, involving a total of 651 domestic pigs and five wild boar.
Three outbreaks in Primorsky involved 12 wild boar found dead at three locations in January and February 2022. No more recent cases have been registered with WOAH.
At the present time and based on this source, there are no ongoing ASF outbreak series in Russia's Far Eastern, Siberian or Urals federal districts.
ASF developments elsewhere in Asian swine
In Indonesia, ASF is suspected as the cause of mortality of 2,000 pigs. According to the United Nations' Food and Agriculture Organization (FAO) in its latest review dated December 22, the animals died suddenly in the city of Medan and three adjacent regencies in the western province of North Sumatra.
As of December 10, Vietnam's agriculture ministry had registered 1,217 ASF outbreaks in 53 provinces/cities in 2022. Furthermore, according to the FAO, almost 58,000 pigs had been culled to prevent the wider spread of infection. Over the previous two weeks, cases were identified in 39 areas, which is the lowest number to record infections since ASF was first detected in the country in February 2019.
The same source reported that, as of December 21, 60 pigs had died in Laos (Lao People's Democratic Republic) since the end of November. Presence of the ASF virus was confirmed in two villages in Kham. This district is located in the northeastern province of Xiangkhouang.
More ASF in South Korea's wild boar
As of January 2, 2,702 wild boar have tested positive for the ASF virus in South Korea, reports Pig People. This is an increase of 82 cases over the previous month, according to the same source. Wild boar testing positive for the ASF virus have been found in 32 cities/counties in four provinces, with the majority of cases in the northern provinces of Gangwon and Gyeonggi.
Since the nation's first cases were confirmed in September 2019, domestic pigs have tested positive for the virus on 28 farms in three regions — Gangwon, Gyeonggi, and Incheon city. The most recent outbreak in domestic animals — the seventh in 2022 — was confirmed at a farm in early November.
View our continuing coverage of the global African swine fever situation.
Japan reports more classical swine fever cases
During the month of December, Japan's veterinary authority registered with WOAH 50 further outbreaks of classical swine fever (CSF). All cases were identified in wild boar — 489 animals in total — between April and September 2022.
Testing positive for the CSF virus were individual animals and groups of up to 52 over a three-month period. These were located in 27 prefectures across six regions of the largest island, Honshu. Furthermore, there were 13 cases in two prefectures in Shikoku. This region is located on the island of the same name south of Honshu.
After a brief hiatus at the start of 2022, CSF was detected again in Japan in March 2022. Since then, cases have been reported to WOAH at 80 locations (up to the end of September). Outbreaks have directly impacted 789 wild boar through mortality or culling.
Furthermore, 73,384 domestic pigs have also been impacted by CSF outbreaks.
The most recent cases in this population were in Kodaira city in the Tokyo metropolitan area in mid-November of last year. Affected was a non-commercial herd of six pigs. One died, and the rest were destroyed. This outbreak brings to 85 the nation's CSF outbreaks in domestic swine since 2018.
Since October 2019, vaccination of domestic pigs against CSF has been allowed in 39 of Japan's prefectures, including Tokyo.
Like ASF, CSF (hog cholera) is a notifiable disease that affects members of the pig family, according to the WOAH. Despite the similar names, CSF and ASF are caused by unrelated viruses.
Both diseases can cause devastating losses in domestic and wild populations, while not impacting human health. CSF is most commonly transmitted to healthy animals by direct contact from those infected with the virus. It is known that the CSF virus can survive for months in refrigerated pork, and for years in frozen meat.