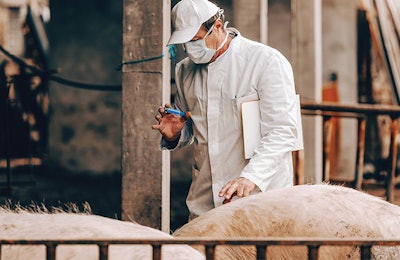 'Promising' vaccine has been found to be effective against African swine fever
Scientists at the University of Connecticut (UConn) and the U.S. Department of Agriculture (USDA) have developed a "promising" African swine fever (ASF) vaccine candidate which has been licensed for commercial development by Zoetis.
According to a UConn press release, the university's Technology Commercialization Services (TCS) worked with the USDA on an agreement that would allow the USDA to negotiate licenses with animal health companies to bring the vaccine to market.
Dr. Guillermo Risatti, professor of pathobiology in UConn's College of Agriculture, Health and Natural Resources and director of the Connecticut Veterinary Medical Diagnostic Laboratory (CVMDL), collaborated with USDA scientists Dr. Manuel Borca and Douglas Gladue to develop the vaccine candidate, called ASFV-G-DMGF.
"Over the years, people have tried live attenuated vaccines, they have tried killed vaccines, they have tried different cocktails of proteins that are expressed by the virus as a mechanism of protection," Risatti said in the press release. "But it never materialized into some sort of candidate."
The successful development of safe and effective modified live vaccines represents a new frontier in protecting swine from ASF, UConn said. It added that researchers from Zoetis and the Friedrich-Loeffler-Institute (FLI) in Germany have conducted trials of the vaccine on wild boars using edible bait containing the vaccine and on domestic pigs through injection into the muscle. Both routes demonstrated the immunization's efficacy against ASF, UConn said.
"Overall, our findings confirm that ASF-G-DMGF is a most promising vaccine candidate that could find its way into well-organized and controlled immunization campaigns," the researchers from Zoetis and FLI wrote in a peer-reviewed article in the journal Pathogens.
Problems with previous vaccine
In August, dozens of pigs died in Vietnam after receiving a new ASF vaccine, which was distributed in Vietnam by NAVETCO National Veterinary Joint Stock Co. Vietnam temporarily suspended the use of the vaccine after the pig deaths were reported. The cause of the pigs' deaths was later found to be "caused by vaccination processes that were out of compliance" with guidelines set by the Vietnamese Ministry of Agriculture and Rural Development (MARD).
"The information that USDA received also reflected that the deaths of post-vaccination pigs could be attributed to the vaccine being administered to pigs at incorrect ages and incorrect dosages, not following the supplier directions, the directions of MARD, nor the guidance of Vietnam's Department of Animal Health," the USDA said at the time.