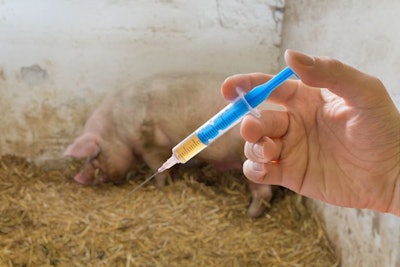 'Dozens' of pigs died after being inoculated, Reuters reports
Vietnam has temporarily suspended the use of its African swine fever (ASF) vaccine after pigs that received the shot died, according to a Reuters report.
"Dozens" of approximately 600 inoculated pigs in Phu Yen province died, Reuters said. The pigs received the NAVET-ASFVAC vaccine.
"We have set up a working group to travel to the province to investigate the deaths of the pigs," an agriculture ministry official told Reuters.
Development of the vaccine — the world's first against ASF — began in early 2022 by NAVETCO National Veterinary Joint Stock Co. in collaboration with experts from the U.S. Department of Agriculture (USDA) Agricultural Research Service (ARS). NAVETCO has partnered with ARS on ASF vaccine research and development since 2020. Lab trials of this vaccine revealed it protected at least 80% of pigs for six months.