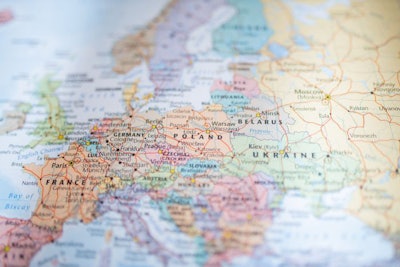 From training dogs to sniff out ASF in pigs to calling on governments for further controls, European countries free of the disease are renewing their efforts to keep the virus out of their territory.
As African swine fever (ASF) continues to spread — mainly among wild boar — across several European countries, neighboring states are stepping up a range of disease control measures.
In Switzerland, dogs have been trained to detected ASF infections in domestic pigs. In the coming months, the dogs will be deployed on farms, reports SwissInfo. An assessment by the Federal Office for Food Safety and Veterinary Affairs has identified a high risk of ASF entering Switzerland from Germany. To reduce the risks, the specialist dogs will check for the ASF virus in the northeastern border canton of Thurgau.
Commercial pig farmers in the United Kingdom (U.K.) are generally already well aware of the risk of ASF entering the country, and the importance of good farm biosecurity. However, a recent podcast from the pork group at the Agricultural and Horticulture Development Board (AHDB) highlights the need to ensure that the risks are communicated more widely, including to general veterinarians, smallholders keeping pigs, and everyone entering the U.K. from ASF-infected countries.
To this end, the industry body, the National Pig Association, continues to lobby the government to raise national biosecurity measures by better protecting the borders.
Currently in the U.K, the government department for the environment, food and rural affairs, Defra, states it is illegal to trade in pork or wild boar meat from ASF-affected areas. It is also illegal to bring in meat products from Asia or Africa. Incoming travelers from the European Union may bring meat and meat products from ASF-affected states. However, it must be disposed of so that pigs and wild boar cannot eat it.
In recent weeks, the European Food Safety Authority has announced its "Stop African swine fever" campaign is extended for a third consecutive year.
Cost of notifiable disease outbreaks
While still free of ASF, the U.K. had a widespread outbreak of foot-and-mouth disease (FMD) in 2001. Affecting cattle and sheep as well as pigs, the cost to the U.K. government alone was GBP3.5 billion (US$4.1 billion), according to the AHDB. Lost exports added to the overall costs, and animal movements were restricted for many months. Furthermore, the mandatory culling of animals on farms had huge impacts on farmers' mental health.
Latest update from Schweine.net highlights the increasing difficulties experienced by pig producers in the northwest German state of Lower Saxony. In this state, the first ASF outbreak was confirmed at a commercial farm in July.
In the restricted areas of Emsland and Bentheim, conditions continue to deteriorate on farms. Not only are the financial costs mounting, but an estimated 30,000 now-overweight pigs are backed up on farms. Almost 300 companies are affected, losing money and unable to move their animals to slaughterhouses.
ASF situation worsens with spread in Russia
Since the start of this year, Russia's veterinary authority has officially registered cases of ASF among domestic pigs and/or wild boar in 18 of its western regions. These cover five different federal districts, and the source of infection is not reported.
According to recent notifications to the World Organisation for Animal Health (WOAH), first cases of the disease have been detected in the Republic of Tatarstan and Ulyansk in the Volga federal district, as well as Vologda oblast in the Northwestern federal district.
Among the 16 outbreaks recently reported to WOAH were two on commercial farms. Involved were one herd of around 5,000 pigs in Tatarstan in the first week of August, and another with almost 23,000 animals in Kaliningrad in the Northwestern federal district in the middle of the month.
Based on WOAH information, Russia's other recent ASF outbreaks in domestic pigs were in small backyard herds in the Southern, Central, Volga and Northwestern federal districts.
Furthermore, a total of 13 more wild boar have testing positive for the ASF virus in the same districts have been registered with WOAH.
ASF outbreak total among Europe's pigs approaches 300
Since January 1, the number of confirmed ASF outbreaks in domestic pigs in Europe has reached 298.
This is according to the Animal Disease Information System of the European Commission (EC; as of August 12). So far this year, 12 European states have now officially registered one or more ASF outbreaks through this system.
For comparison, 11 European states registered a total of 1,874 ASF outbreaks with the EC over the whole of 2021.
Registering the most outbreaks in 2022 has been Romania with 193. Also confirming further outbreaks to the EC since August 5 have been Latvia (now with 5 outbreaks this year), Lithuania (6), North Macedonia (7) and Moldova (8).
Generally, outbreaks in these countries have affected small backyard herds, based on WOAH notifications. However, a farm with 430 pigs is among the locations where the ASF virus was recently detected in North Macedonia.
Ukraine declares ASF resolved in central region
At the start of August, Ukraine's animal health agency declared to WOAH that the ASF situation in Kirovohrad oblast is "closed."
This came after a single confirmed outbreak of the disease in a backyard herd in mid-June of this year.
Europe's wild boar total passes 4,900
So far this year, 4,946 ASF outbreaks among wild boar have occurred in Europe, according to the EC notification system (as of August 12). Registering one or more outbreaks in 2022 have been 14 of the continent's states.
In this population, recording the most outbreaks with the EC in 2022 has been Poland (1,365), followed by Germany (1,154), Latvia (473), Hungary (446), Slovakia (428) and Romania (339).
Since the previous update on August 5, Italy, and Lithuania have also registered new cases in wild boar though this system.
For comparison, 12 countries confirmed with the EC one or more ASF cases in wild boar — a total of 12,150 outbreaks — during the whole of 2021.
ASF was first detected in Germany in September 2020. Since then, 4,255 wild boar have tested positive for the ASF virus (as of August 19), according to national veterinary agency, the Friedrich-Loeffler Institute. Cases in the wild population have occurred in three eastern states — Brandenburg, Saxony and Mecklenburg-West Pomerania.
So far, Italy has recorded a total of 227 ASF cases that have been confirmed among the wild boar population to WOAH since the start of this year. Based on information supplied to WOAH, all cases on the mainland have so far been confined to four provinces — two in the northwestern regions of Piedmont and Liguria, and two near Rome in the Lazio region.
View our continuing coverage of the global African swine fever situation.