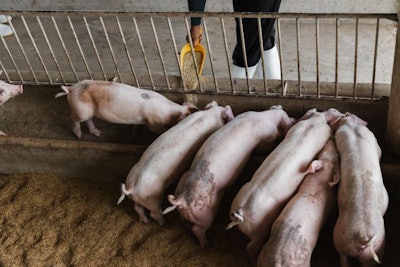 ASF-prevention campaign seeks to educate EU swine industry stakeholders, public
With both wild and domestic pig populations in Europe under continued threat from African swine fever (ASF), the region's animal health agency has again extended a disease awareness campaign. Latest outbreaks of ASF include two commercial farms in Russia, while 14 European countries have reported new cases among wild boar in the past three weeks.
Under the banner "Stop African swine fever," a campaign to bring the disease under control in Europe has been extended for a third consecutive year.
Operated in partnership with local authorities, the scheme currently covers 18 countries, according to the European Food Safety Authority (EFSA). These are Albania, Bosnia & Herzegovina, Bulgaria, Croatia, Czech Republic, Estonia, Greece, Hungary, Kosovo, Latvia, Lithuania, Montenegro, North Macedonia, Poland, Romania, Serbia, Slovakia, and Slovenia.
Among the key features of the campaign is that it involves raising awareness of ASF through various groups representing farmers, hunters, and veterinarians.
According to EFSA executive director Bernhard Url, ASF continues to spread at a rate he describes as "alarming." He cited the sudden appearance of the infection on Italy's mainland at the start of this year, and to isolated outbreaks in Germany near to its borders with France and the Netherlands.
"African swine fever is not confined to wild boar in Eastern and Central Europe," he said. "It is a global issue that poses a significant threat to pigs, farmers and the pork industry, and needs to be tackled by all of us together."
As a result of determined local action and information exchange, EFSA reports that ASF has been eradicated in some European countries, notably the Czech Republic.
However, DG SANTE's director Bernard Van Goethem stressed the importance of maintaining vigilance for signs that the disease is spreading further.
ASF outbreak total among Europe's pigs approaches 290
Since January 1, the number of confirmed ASF outbreaks in domestic pigs in Europe has reached 286.
This is according to the Animal Disease Information System of the European Commission (EC; as of August 5). So far this year, 12 European states have now officially registered one or more ASF outbreaks through this system.
For comparison, 11 European states registered a total of 1,874 ASF outbreaks with the EC over the whole of 2021.
Registering the most outbreaks in 2022 has been Romania with 187. Also confirming further outbreaks to the EC over the past three weeks have been Lithuania, North Macedonia, Moldova, Poland, Slovakia, and Ukraine.
Further cases in central, eastern Europe
The EC system does not cover the disease situation in Russia. However, recent official reports from that country indicate a sudden rapid spread of the ASF virus across its western regions.
Based on reports lodged with the World Organisation for Animal Health (WOAH), new ASF cases have been detected in nine different Russian regions in the past month.
Of the 13 outbreaks reported lately, two were on commercial farms. At the end of July, animals tested positive for the virus among more than 2,700 pigs at a premises in the North Caucasian federal district region of Stavropol, as well as in a herd of 6,000 in Kostroma oblast in the Central federal district.
Other recent Russian cases were among backyard herds, each comprising between 1 and 135 pigs. However, they were widely distributed also in Russia's Southern and Northwestern federal districts.
According to recent notifications to WOAH, latest outbreaks in Romania, North Macedonia, Moldova, and Ukraine have involved small backyard herds.
Since ASF virus was detected again in Polish pig herds at the start of June, the number of affected herds has reached 13, according to the chief veterinary office.
Confirmed in the period July 26 to August 2 have been five outbreaks. Affected have been herds comprising between nine and 396 swine. Four were in the central-western province of Greater Poland, while the most recent was in the northwest of the country in West Pomerania. The affected farm was in a county that borders Germany.
Disease "resolved" in Moldovan, Russian regions
In Moldova, veterinary authorities have declared to WOAH that ASF has been resolved in Dubasari. During May, one outbreak was reported in non-commercial pigs in this eastern district.
Meanwhile, the disease situation is also closed in Russia's Oryol oblast. According to official notifications, ASF has not been detected in this Central federal district region since a wild boar tested positive for the virus in March of this year.
Europe's wild boar case total passes 4,800
So far this year, 4,841 ASF outbreaks among wild boar have occurred in Europe, according to the EC notification system (as of August 5). Registering one or more outbreaks in 2022 have been 14 of the continent's states.
In this population, recording the most outbreaks with the EC in 2022 has been Poland (1,345), followed by Germany (1,127), Latvia (451), Hungary (437), Slovakia (417), and Romania (333).
Over the past three weeks, Estonia, Italy, Lithuania, and North Macedonia have also registered new cases in wild boar though this system.
For comparison, 12 countries confirmed with the EC one or more ASF cases in wild boar — a total of 12,150 outbreaks — during the whole of 2021.
In Germany, ASF was first detected in September of 2020. Since then, 4,213 wild boar have tested positive for the ASF virus (as of August 5), according to national veterinary agency, the Friedrich-Loeffler Institute. Cases in the wild population have occurred in three eastern states — Brandenburg, Saxony, and Mecklenburg-West Pomerania.
In Italy, a total of 226 ASF cases have been confirmed among the wild boar population to WOAH since the start of this year. Based on information supplied to WOAH, all cases on the mainland have so far been confined to four provinces — two in the northwestern regions of Piedmont and Liguria, and two near Rome in the Lazio region.
View our continuing coverage of the global African swine fever situation.