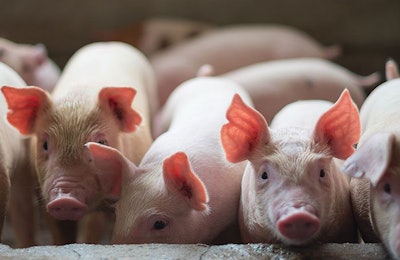 Three intertwining issues are top of mind for US pork producers at World Pork Expo.
The National Pork Producers Council (NPPC) named international trade, foreign animal disease and labor as its top legislative priorities on June 8 at the World Pork Expo in Des Moines, Iowa.
These issues were also highlighted as NPPC's top policy issues during its spring Capitol Hill fly-in in April.
Maria Zieba, NPPC's assistant vice president of international affairs, said NPPC is focusing on three areas of trade: expanding market access, maintaining market access once it is obtained and protecting the health of the U.S. swine herd.
"Opportunities for the industry really lie with reducing tariffs and non-(tariff) barriers to trade like on the sanitary and phytosanitary issues. Most of that is going to come through the elimination of tariffs in Southeast Asian countries, like the Philippines and Vietnam," she said, adding that NPPC has also been advocating for the U.S. to re-enter the Trans-Pacific Partnership.
"But we certainly face a lot of headwinds on the tariff and non-tariff barriers to trade, but there are plenty of opportunities as long as things are negotiated correctly," she said.
Focus on ASF prevention, detection
Dr. Liz Wagstrom, NPPC chief veterinarian, said a joint task force has established six priority areas that will allow the U.S. to be better prepared to respond to a potential outbreak of African swine fever (ASF) if it were to be detected. Those priorities are:
Harmonize state and federal plans
Make sure producers know what will be expected of them in the event of an outbreak
Maximize surveillance efforts in the U.S.
Support the U.S. Swine Health Improvement Plan and work to make it an official program of the U.S. Department of Agriculture
Make sure producers, in the case of an outbreak, get fair indemnity and market support
Be prepared to return to trade as quickly as possible after a potential ASF outbreak
Wagstrom also said the NPPC worked with more than 200 other agriculture groups to ensure the U.S. Customs and Border Patrol is fully funded so that it can better protect against a foreign animal disease entering the U.S. Another one of NPPC's federal funding requests is a minimum of US$20 million to hire more federal veterinarians to fill a shortage.
She added that NPPC is helping to prepare producers for what they will need to do in the event of an ASF outbreak.
"Producers are going to need to play a part in the response. We cannot count on state and federal veterinary authorities to be able to come in and handle everything," she said. "There's a lot that can be done ahead of time when producers realize that they're going to have responsibility in an outbreak."
This includes signing up for the Secure Pork Supply Plan and look at the Swine Health Improvement Project to learn how to improve biosecurity on their farm.
Labor a challenge in rural America
Labor was a challenge for the pork industry even before the COVID-19 pandemic, said Jack Detiveaux, NPPC's manager of competition, labor and tax issues.
"Lack of access to key visa programs, like H-2A, continues to be a frustrating source of problems for our members, and trying to get access to visa programs we know will help alleviate this, especially in such a tight labor market," he said.
NPPC President Terry Wolters said all of rural America faces labor issues, because of sparse population and the labor that is required to work on farms. The industry relies on foreign-born workers but doesn't have enough access to the visa programs to keep them in the U.S. year-round to work.
"It's a high-tech job that pays well and is very important but, at the same time, by the time we train those workers and then have to send them back, it just adds to the issue we have of a shortage," he said.