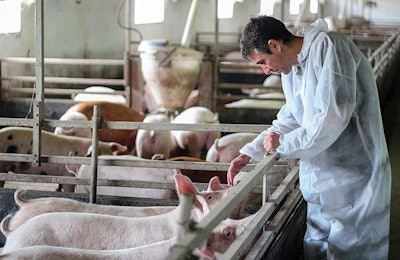 As Germany reports its first outbreak of African swine fever (ASF) in domestic pigs in Baden-Wurttemberg, South Korea has confirmed its first cases on a farm for more than six months.
In Germany, the number of outbreaks of ASF among domestic swine has risen to five.
This week, the ASF virus was detected at a farm in the southwestern state of Baden-Wurttemberg. This is the first ever ASF outbreak in this state, according to a notification to the World Organisation for Animal Health (OIE).
Affected was a premises in the Emmendingen district with 35 swine, 16 of which died. The remaining animals have been culled to reduce the risk of spreading the infection.
Source of the infection is unclear. Baden-Wurttemberg shares no borders with other states where ASF has previously been reported. Furthermore, no cases among the wild boar population have been reported there.
The affected farm kept swine free range, according to the federal agriculture ministry. Among the measures taken by the local state authority are the setting up of controls for the protection and surveillance zones around the infected premises.
Just prior to the confirmation of this latest outbreak, on May 25, Germany's veterinary agency, the Friedrich-Loeffler Institute put the number of confirmed ASF outbreaks in the country's wild boar at 3,925.
Furthermore, since the first cases were confirmed in September 2020, domestic pigs at four premises had tested positive for the virus. These involved one farm and two backyard herds in Brandenburg, and one farm in Mecklenburg-West Pomerania. Starting in mid-November 2021, this was the location of the country's most recent swine outbreak prior to the latest development.
ASF returns to South Korean pig farm
To the OIE, the veterinary authority of South Korea updated the ASF situation in the country on May 26.
Among the 15 outbreaks to be reported was one on a commercial farm in Gangwon province. This is the country's first outbreak in domestic pigs since early October 2021.
Affected were a total of 1,175 pigs, four of which died. The rest of the herd has been culled.
Since ASF was first detected in the country in September 2019, 21 outbreaks of ASF have occurred among South Korean domestic pigs, according to the agriculture ministry. Of these, all seven outbreaks since the start of 2020 have occurred in Gangwon. Located in the northeast of the country, this province borders North Korea.
The ministry reports that there were more than 1,500 pigs at the farm in Hongcheon county, and that all have been destroyed. There are no farms with swine within 500 meters of the infected premises, but one inside a 3-kilometer radius. Between three and 10 kilometers are eight pig farms.
Within the province of Gangwon and neighboring Gyeonggi, a 48-hour transport ban is in place for pig farms, slaughterhouses, feed companies and other related vehicles.
View our continuing coverage of the global African swine fever situation.