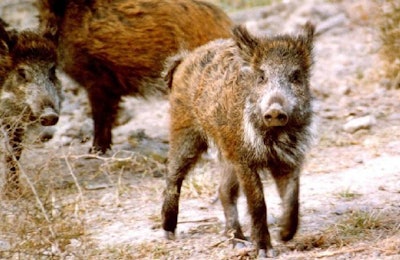 In Italy, the African swine fever virus has been detected in wild boar in a second province in the Lazio region, while further cases are confirmed in previously affected areas.
As the number of African swine fever (ASF)-infected wild boar in Italy passes 150 and the disease is detected in a fourth province, authorities are further stepping up control measures.
According to official reports, the country's first cases of ASF on the mainland were confirmed in early January in the northwestern region of Piedmont (Piemonte). Soon afterwards, wild boar in Genova province in neighboring Liguria tested positive for the virus. One month ago, first cases were identified in a natural park in the Rome area, also in wild boar.
Last week, authorities in the Piedmont region were reported to be establishing nets to control the movement of wild boar. According to ANSA, the nets are in the province of Alessandria, where this region's cases have so far been detected. Gradually, the barrier will be moved so that it connects with a similar structure in Genova (Genoa), the affected province in the Liguria region.
In Piedmont, authorization has been granted for the depopulation of wild boar.
At the end of May, there were demonstrations in the Italian capital, Rome, reported ANSA. Pig farmers and other people from all over the country called for urgent action to reduce the wild boar population. According to a recent survey, almost 70% of the population want the national population of 2.3 million wild boar to be reduced. Among the reasons given are that the animals are dangerous, a nuisance, and cause damage to crops and the environment.
Latest official figures put the number of confirmed ASF cases in Italy at 157. This is according to notifications to the World Organisation for Animal Health (WOAH).
The total comprises 137 in the northwestern regions of Piedmont and Liguria, and 20 in Lazio. In the latter region, the first case outside the Metropolitan City of Rome Capital area was detected at the end of May. The animal was in the neighboring province of Rieti.
Europe's wild boar outbreaks approach 3,800
So far this year, 3,675 ASF outbreaks among wild boar have occurred in Europe. This is according to the Animal Disease Information Notification System operated by the European Commission (EC; as of May 27). One or more cases have been detected in 14 countries.
So far recording the most outbreaks in 2022 has been Poland (1,150), followed by Germany (842), Hungary (334), Slovakia (326), Romania (309) and Bulgaria (236). Since the previous update on May 14, Latvia and Lithuania have also notified the EC of new outbreaks.
During the whole of 2021, 12 countries registered with the EC one or more ASF cases in wild boar — a total of 12,150 outbreaks.
Recent reports from Poland's chief veterinary office confirms a further 75 ASF outbreaks involving 111 wild boar. The cases were suspected in the period April 22 to May 26. These bring to 1,053 the nation's total cases in wild boar so far this year.
In Germany, ASF was first detected in September 2020. Since then, 3,957 wild boar have tested positive for the ASF virus (as of June 3), according to national veterinary agency, the Friedrich-Loeffler Institute. This is an increase of 64 from May 20.
EC's system does not cover the ASF situation in Russia where, according to a recent OIE notification, one wild boar tested positive for the virus in Yaroslavl at the end of May.
This region is part of the Central federal district. No new cases have been reported in this region since November 2021.
ASF situation among European pig herds
As of May 27, nine countries had officially confirmed one or more ASF outbreaks among domestic pigs so far this year. This is according to the EC's notification system.
Latest country to report an outbreak in swine is Germany. Its first outbreak was confirmed in Baden Wurttemberg at a farm with 35 pigs.
By that date, the region's outbreaks in commercial and backyard pigs had reached 180 for the year. Of this total, 157 occurred in Romania. In Serbia, 11 outbreaks in swine have been registered in 2022 up to February 10.
Also registering new outbreaks through this system is Italy (now with two outbreaks so far this year), Moldova (3) and Slovakia (2).
To WOAH, Moldova's authorities have reported two new outbreaks, and there have been eight in Romania. All were in small backyard herds.
View our continuing coverage of the global African swine fever situation.