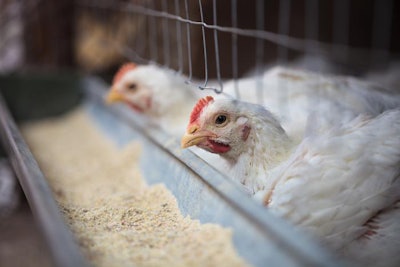 Learn more about the results of WATT Global Media's 2022 Poultry Nutrition & Feed Survey
PODCAST: Poultry, feed producers show some optimism for 2022 (13:18)
Ann Reus: Hello and welcome to the Feed Strategy podcast. I'm your host, Feed Strategy senior reporter Ann Reus.
I'm talking today with my colleague, Jackie Roembke, editor in chief of WATT Feed Brands and Feed Strategy magazine. She's here to talk about the 2022 Poultry Nutrition & Feed Survey, conducted each year by WATT Global Media.
Hello Jackie, welcome back to the podcast.
Jackie Roembke: Hi Ann. Thank you so much for having me. Glad to be here.
Reus: Can you start off by explaining how the 2022 Poultry Nutrition & Feed Survey was conducted and who responded?
Roembke: Absolutely. To give you a little background, WATT Global Media has been conducting the Poultry Nutrition & Feed Survey for a decade now. We send it to the relevant readers of WATT Poultry USA, Poultry International and, of course, Feed Strategy; and it is conducted in both English and Spanish.
This year we received 359 responses – largely consisting of feedback from nutritionists, vets and producers from around the world.
We saw the largest response rate out of the U.S. and Canada at 35%, 20% Latin America and 18% from Asia-Pacific region, so the feedback really offers a glimpse into the feeding experiences of the global poultry industry.
Reus: The survey showed a lot of optimism about the outlook for 2022 – with the caveat that the survey was conducted before Russia began its invasion of Ukraine. What did respondents cite as their reasons for this optimism?
Roembke: The war in Ukraine has added another level of uncertainty and volatility to the 2022 feed outlook – especially when it comes to rising commodity costs and ingredient availability.
When we sent the survey out, omicron had begun ramping up, and while I don't believe everyone thought they were out of the woods yet, there was definitely a sense of relief in the survey results. I think that may have had much to do with the vaccine boosters, the stabilization of food service and travel, and the rollback of restrictions in many areas – certainly in parts of the U.S.
Let's say maybe they felt like the worst was behind us – at least as far as COVID goes and its ripple effects because compared with 2021, 47% of survey respondents believed their company's profitability would improve in 2022 or, in the opinion of 33% of respondents, at least stay the same.
What also, pointed to a bump in optimism would be that 78% of survey respondents felt their feed production will increase or stay the same in 2022. No deep decreases, people were looking on the positive side of things.
However, that being said, it wasn't completely rosy because the respondents did in fact say that they had some challenges on the horizon. So, 88% cited their primary business challenge in 2022 would be high grain costs – with 34% fearing grain costs would increase by more than 10%, which looking at current grain and futures markets – and the Russian-Ukrainian conflict – will be likely be the case.
So, going into next year, I'm going to be curious to see where the 2023 survey goes, given everything that is currently in play and factoring those unknowns.
Reus: You reported there was an emphasis this year on sustainability and climate change. What did survey respondents have to say about those themes and how they will affect their business?
Roembke: It was definitely a hot topic. Discussion of sustainability has definitely moved from abstract concepts to more well-defined, actionable programs and pledges embraced by many large agrifood corporations.
As a result, global feed producers and their suppliers believe sustainability efforts will increasingly influence their business and feeding practices. For example, 51% of survey respondents say they have changed their formulations to include additives meant to draw more nutrients out of rations. Forty-one percent have begun including emission-reducing feed additives in their feeding programs.
And looking ahead, they did cite the pressures of their downstream customers, so 44% cited this, that they are making sourcing decisions based on perceived environmental impact of their suppliers, and 31% say that they are requesting proof of sustainable practices and sourcing.
Companies are also taking it a step further and investing in equipment to improve their energy efficiency in their facilities (38%) and increasingly utilizing real-time data collection and analysis to better manage production (38%).
To meet the feed industry need for more examples of sustainability in practice, Feed Strategy is actually hosting a half-day conference on the topic the day before VIV Europe in Utrecht on May 30. The 2022 European LIVE Feed Congress will focus on strategies to future-proof food production with a major emphasis on the role sustainable feed production will play in achieving this mission. Here, attendees are going to hear more about what some of the largest feed producers, ADM and Trouw Nutrition, are doing and what several others on the technical side, such as DSM and Evonik are doing to really tackle this issue and provide those solutions to the industry. Listeners can learn more about that on the FeedStrategy.com events page.
But I digress there. Let me get back here. So you mentioned climate change: Survey respondents acknowledge how it has or will eventually impact their business.
In the future, 59% of survey respondents believe climate change will be responsible for impacting raw material availability, 50% feel it will result in higher commodity costs and nearly 40% believe it will contribute to increased mycotoxin contamination and present a challenge to maintaining feed quality.
Also, looking at live production, poultry producers feel it will impact animal health and welfare and contribute to new and more on-farm production challenges (38%).
Reus: How have COVID-19 and African swine fever affected producers and their outlook?
Roembke: Companies continues to grapple with pandemic-related supply chain disruptions (70%), commodity price volatility (65%), the labor shortages everybody's experiencing (50%) and the ongoing emphasis on employee safety (46%). So those would be the top four COVID-related stressors that the feed industry is dealing with right now.
As far as African swine fever (ASF) goes, that continues to be a huge challenge to swine production in the affected regions, primarily in Southeast Asia, China, Eastern Europe – and the pork industries elsewhere are watching that and hoping it is not detected in their countries. It's getting close to the U.S. having been detected in the Dominican Republic and Haiti, so definitely heightened emphasis on biosecurity and prevention. So that's kind of where the industry is at overall.
Again, when this survey was conducted, it was before the recent outbreaks of avian influenza but, at the time, 27% of survey respondents said that they believe ASF will spur an increase in poultry production. Maybe that's shifted a little. But also on the downside of that, 19% said that ASF will decrease their additive and ingredient sales and about 23% felt that it was going to reduce their overall feed production.
Given all of these disease challenges – human and animal – more than 41% of respondents did say that they will be making additional biosecurity improvements and investments to their facilities this year. So, that's something to watch on the equipment and facility side of things, to see where that goes.
Reus: What did survey respondents say about how much of their production is antibiotic free, and how is the reduction in antibiotics affecting their operations?
Roembke: Great question, Ann. So this is something we've been watching now for quite some time. This year – and this would be the highest percentage since we've been doing this – 91% of survey participants report having some degree of antibiotic-free production, and 28% of that stating that 100% of their poultry operation is, in fact, antibiotic free.
Something to note too, though, is that 30% cited that antibiotic restrictions is also their greatest production challenge, so some ongoing issues there with the adoption of ABF production.
In the opinion of survey respondents overall, the real problem with making this — at least 38% of them feel this way — can be attributed to the high cost of feed additives.
Not far behind that, the second biggest issue they grappled with is the inconsistent results they've grappled with, with these feed additive alternatives (37%).
Meanwhile, poultry producers also cite production losses with the elimination of antibiotic growth promoters and, also, the frustration and difficulty implementing on-farm hygiene and procedural changes. Here, more than 30% of the respondents say that antibiotic reductions have resulted in increased incidents of necrotic enteritis and coccidiosis as well.
Reus: And what types of additives are producers using to replace antibiotics and what do they have to say about them?
Roembke: So, 75% of survey respondents report that their company is actively exploring, testing or using feed additives as antibiotic alternatives or replacements.
To regain the production gains that they saw with AGPs, respondents have incorporated different feed additives into their rations, trying to bridge that gap. And those would be, primarily, probiotics and organic acids, so those ranked as the most popular AGP alternatives, followed by enzymes and phytogenic feed additives.
Now 80% of respondents — and this is tabulated by response percentage — found both organic acids and probiotics are the most effective feed additives alternatives to antibiotics, and 68% pointed to enzymes.
Phytogenic feed additives and essential oils were also deemed effective by 60% of respondents; however, a totally different set of overall respondents – almost 30% – felt they could not comment on the efficacy of the category at all. So it may be more research needed there, education, but that's what the survey had to say.
Reus: Did you notice any shifting trends this year from previous years?
Roembke: Another great question. Honestly, we've been asking the "climate change" question for about five years now and it has been really interesting to see the shift in attitude amongst respondents.
Initially, there was a really strong undercurrent of skepticism but now not only are more people accepting that, yes, this is a reality, it's not political and that it is in fact having an impact on feed ingredients, feed costs and production ag – and will continue to do so in the future – but they are indicating that they support efforts to curb the effects of climate change and that their corporation and/or their clients have also adopted a sustainability- or environmentally-conscious mindset.
Reus: Did anything surprise you about this year's responses?
Roembke: I wouldn't say it's a surprise, but I did find this input encouraging: Many companies are taking the lessons learned during the pandemic and are deciding to invest in their businesses.
More than 30% of respondents plan to make feed mill upgrades and invest in new manufacturing or processing equipment. Now, I think that may point to an increase in automation and push to gain efficiencies given the challenges labor and supply chain issues that companies have had to deal with the last couple of years, but also that these operations feel secure enough with the state of things to spend that money again.
Reus: Well, thank you so much, Jackie, for your time.
Roembke: Thanks for having me, Ann.
Reus: And thank you to the audience for listening. You can find out the results of the 2022 Poultry Nutrition & Feed Survey in the March/April issue of Feed Strategy.