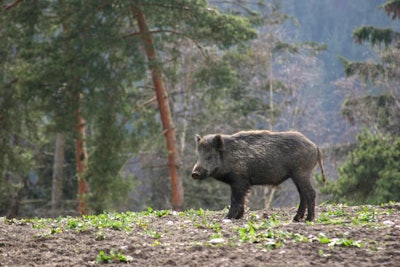 While endemic on the country's island Sardinia, this is the first report of the disease on the mainland
African swine fever (ASF) has been detected in mainland Italy for the first time, in a wild boar in the region of Piedmont.
Testing confirmed the disease in a dead boar in Ovada, southwest of Milan in northern Italy, on January 7.
"As in the case of the (COVID-19) pandemic, the African swine fever emergency must also be addressed by appealing to everyone's collaboration," said Piedmont's health deputy, Luigi Icardi, in a statement. "Piedmont health system is working alongside operators in the sector to prevent the circulation of the virus and protect swine farms."
According to agricultural association Confagricoltura, Italy has 8.9 million pigs and is the seventh largest pork producer in the European Union, which represents a value of EUR8 billion (US$9.1 billion).
Following protocol, crisis units were set up at the local, regional and national level, while meetings were being held with authorities in veterinary services, forest management and wildlife and hunting, the health department said.
"We are acting with the utmost timeliness, the immediate and coordinated implementation of control measures in wild (pigs) is essential in an attempt to confine and eradicate the disease as much as possible," Icardi said.
Italy's health ministry will notify the World Organisation of Animal Health (OIE) and the European Commission about the case, reported news agency ANSA.
ASF has been endemic on the Italian island of Sardinia since 1978, but this is the first time the disease has been confirmed in the country's mainland since it started spreading across Europe in 2018. In Sardinia, feral pigs without owners are periodically rounded up by the authorities, and culled as a measure to control ASF. Recently, Alguer reported that 41 animals had been subjected to these controls in one district.