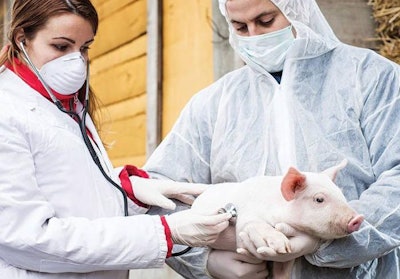 Ongoing improvements, along with resources to help plan and prepare, increase awareness
For all the risk factors for the entry of African swine fever (ASF) into the U.S., sources say the swine industry's biosecurity standards are robust and continuously strengthened.
"U.S. pork producers have very impressive biosecurity protocols," said Liz Wagstrom, National Pork Producers Council (NPPC) chief veterinarian, adding that the NPPC urges producers to regularly audit or assess compliance to those plans on-site.
"Producers have been continuously working to improve biosecurity since ASF was identified in China three years ago. With the recent confirmation of ASF in Hispaniola, it has once again increased producer awareness of the need for biosecurity," she said.
Producers are encouraged to develop their plans with the Secure Pork Supply program – including the biosecurity section – and to talk with their state veterinarian to determine how their state wants to handle those plans.
Additionally, she said, "several states have active foreign animal disease groups working on prevention, preparedness and response planning, that producers are involved in. On the national level, organizations are working closely with USDA (the U.S. Department of Agriculture), Customs and Border Protection, state animal health officials and others to focus on preventing the entry of ASF into the country and then on preparedness for early identification and effective response should an outbreak occur."
Wagstrom said the industry continues to conduct drills and simulations "to work through a variety of scenarios in an effort to exhaust all possibilities. There was recently a drill in Iowa that focused on the packing plant and what would happen if a positive animal was identified at a plant. A further consideration of this drill was what would happen if the plant was in a control area. A majority of previous drills have focused on finding a positive animal(s) on farm."
Iowa Secretary of Agriculture Mike Naig said in a webinar presented by the Iowa Farm Bureau in November that his state has stepped up other preparations for an outbreak so that stakeholders are not caught off guard in the event of an ASF outbreak.
"We're leading the conversation across the country on stockpiling of necessary equipment to respond, modernizing (information technology) systems to be able to operate within a disease outbreak situation and still be able to move animals safely, and we're working to build the connections needed to permit movements in the in the case of an outbreak," he said. "And this all has to happen before an outbreak. These are things that we need to be talking about now. These are not things that you can deal with on Day 1 or 2 of an outbreak. It's too late at that point."
Paul Sundberg, executive director at the Swine Health Information Center, said the surveillance programs in place now in the U.S. are better and more coordinated than they were a few years ago.
"We have a surveillance program now that we did not have in 2018. We have a coordinated surveillance program that we use," he said. "We look for hemorrhagic diseases; rather than looking for classical swine fever and African swine fever, we look for hemorrhagic disease. That means we look for both of them because you can't tell them apart. So we're looking for both of those in a variety of different spots in what's called surveillance streams, sick pigs, in diagnostic labs, in packing plants and feral pigs."
Dr. Jeff Kaisand, state veterinarian for the Iowa Department of Agriculture and Land Stewardship, also noted in the Farm Bureau webinar the challenge of identifying clinical symptoms of ASF such as bloody diarrhea, vomiting, weight loss and abortions, because they are similar to other diseases.
"These clinical signs are not signs that stand out as something special about African swine fever. And, actually, are clinical signs of a lot of diseases that we have in the United States in pigs now," he said.
Adding to the challenge is the virus' relatively long incubation period.
"The time for when an animal may contract the virus and then show clinical signs is anywhere from three to 15 days. So, this incubation period, if it's up to a couple of weeks, combined with clinical signs that are not very apparent, that's going to be a red flag, could potentially mean that we could have African swine fever in a population of pigs for a period of time before we know it. So that's why it's so absolutely critically important people watch and report anything odd," Kaisand said.
If any area of preparedness needs more improvement, Sundberg said it's in the "first points of concentration," where pigs are brought together from multiple areas, such as at livestock sales or packing plants.
"Because if there is ASF out there in the countryside, it will likely land in that first point of concentration and it could be brought away from that first point of concentration to somewhere that was previously negative," he said.
Resources available for planning, preparation
U.S. swine producers have several resources available to help them plan and prepare for foreign animal diseases (FAD), Wagstrom said.
The Secure Pork Supply Plan is a great source for planning, she said. The website, funded by the U.S. Department of Agriculture's Animal and Plant Health Inspection Service and the Pork Checkoff, provides information for pork producers, veterinarians, packers and regulatory officials on planning for an FAD outbreak.
"Additionally, producers may want to reach out to their state veterinarian to make sure they understand their state-specific plans," Wagstrom said.
Other programs she considers valuable include the Certified Swine Sample Collector Program, a training program for barn staff to be able to conduct and handle samples that would be utilized in the case of an ASF outbreak, and the U.S. Swine Health Improvement Plan, a pilot program modeled after the National Poultry Improvement Plan with a goal of developing a monitored certification program for African swine fever and classical swine fever.
Other resources for ASF prevention: