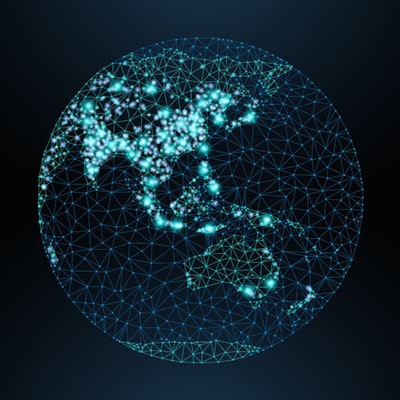 In China's Hunan province, a group of pigs testing positive for African swine fever have been picked up at a vehicle checkpoint.
Late last month, further cases of African swine fever (ASF) in domestic pigs have been detected in south-central China.
Testing positive for the virus were 12 animals out of a group of almost 200 at a highway checkpoint. According to the official report to the World Organisation for Animal Health (OIE), the controls were near the town of Zhangqiao in the Yueyang city region of Hunan province.
This was the third outbreak in the province since March. A total of 535 pigs have been directly involved. Previous cases were identified first at an animal quarantine center, and then at another vehicle checkpoint in early September.
Citing data from China's agriculture ministry, the United Nations' Food and Agriculture Organization (FAO) reports that 11 ASF outbreaks had been confirmed in the country over the first seven months of this year. Affecting a total of 2,216 pigs, these occurred in eight provinces.
Since then, OIE has been notified of the two outbreaks identified at checkpoints in Hunan, and ASF cases at a farm in Hainan province during October. Furthermore, one wild boar has tested positive for the virus in a natural park in Hong Kong.
ASF losses mount in northeastern India
Since the first cases in March of this year, almost 30,000 pigs have died in Mizoram, reported Republic World this month.
At least 10,380 animals suspected with the disease have been culled, according to a senior local official. Cases have occurred in around 270 villages in all 11 of the state's districts.
Economic consequences of the disease are estimated to run to INR80 billion (US$1.05 billion). So far, affected owners have received no financial compensation for their losses.
Further ASF outbreaks in Russia's Far East
In the Amur region in the Far Eastern federal district, new cases of ASF have been discovered in domestic pigs and wild boar.
In the first week of December, pigs in a backyard herd of 17 animals tested positive for the virus, as well as a group of three wild boar. Discovered at different locations, both of the districts border China.
ASF was first detected in the Far Eastern federal district in July 2019. These latest cases bring the total outbreaks in Amur since July to 50. Directly affected have been more than 3,300 domestic pigs at 33 locations. The great majority of outbreaks were in small non-commercial herds. However, there were also cases at a farm with 1,700 animals at the end of September. Furthermore, 31 cases have been detected in wild boar in the Amur region over the past five months.
Also part of the Far East district, Russian authorities report no further outbreaks in the Khabarovsk region. Here, there have been 18 ASF outbreaks since July — including 16 in domestic pigs — affecting a total of 575 animals.
To the west in the Urals federal district is the region on Sverdlovsk. Since September of this year, ASF has been detected in six backyard herds, totaling 979 pigs. The most recent cases reported to the OIE there were one month ago.
Support for Vietnam in animal disease control
Last week, an agreement was reached to support Vietnam's efforts to control ASF, reported Vietnam Plus.
According to a memorandum of understanding, the International Finance Corporation (IFC) will help the country's agriculture ministry efforts tackling ASF. Among the steps to be taken under this cooperation are to be a survey, review, research and proposals for disease control measures for the country. Finally, assistance will be given for the drawing up of legal documents to promote biosecurity in animal production.
Making use of its international expertise, IFC will provide training for officials in Vietnam. It will also help develop pilot-scale livestock production facilities with international standards in breeding and disease control — with the main focus on pig farming and ASF prevention.
For deputy agriculture minister Phung Duc Tien, the source reports, this project will support Vietnam with its aims to increase its animal husbandry capacity, and open export opportunities.
According to a recent report, ASF has been detected in more than 2,700 communities in Vietnam so far this year. Around 230,000 pigs have been culled as a result, which is three times more than in 2020.
Philippines counts the cost of ASF
The Philippines continues to count the economic costs of earlier ASF outbreaks for pig owners who lost their animals to the disease.
For one town in North Cotabato — a province in the Soccsksargen region on the island of Mindanao — alone, this has been estimated at more than PHP5.8 million (US$115,000).
According to a local official, protocols were set up to monitor for ASF in nearby villages, reported the Philippine News Agency (PNA). At the same time, members of local agencies have been manning checkpoints. Preventing uncontrolled movements of pigs and pork products between different localities, these aim to stop infection spread.
So far, six villages have been identified as disease "hot spots," and these cover 341 pig farmers. Within this area, PHP5.8 million has been paid to owners of around 1,600 pigs that have been culled to reduce the spread of ASF.
Under controlled conditions, sales and consumption of locally produced pork have continued in this area. For public and private sale at some events, pigs must first test negative for the virus. Tests are offered free of charge by the regional veterinary lab. A shortage of supplies has resulted in the closure of some stalls selling pork at the town's market.
In Albay province in the Bicol region, an ASF recovery program is underway. PNA reports that 200 young pigs are offered to selected farmers in Legazpi city to restock their herds. In the longer term, this will contribute to rebuilding the nation's pig production capacity. Once these hybrid animals are mature, they will be artificially inseminated with imported semen. In this way, the next generation of pigs will have a high genetic value.
View our continuing coverage of the global African swine fever situation.