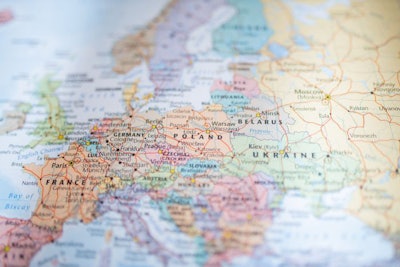 Over the past week, outbreaks of African swine fever have been confirmed in Poland, Romania and Russia, while new cases among wild boar were detected in 7 European countries.
Two commercial pig farms — one in Romania and one in Russia — are among the locations of new African swine fever (ASF) outbreaks to be officially recorded in domestic animals over the past week.
According to the latest reports to the World Organisation for Animal Health (OIE), cases in swine were confirmed at 14 locations in Romania. One in the south of the country was a commercial unit with more than 13,000 animals, just one of which died. According to the report of the national veterinary authority, culling was ongoing.
Other outbreaks reported by Romania involved isolated pig carcasses dumped in three different public areas, as well as in 10 backyard herds, each with between two and 78 pigs.
Meanwhile, ASF has been detected for the first time since March 2020 in Stavropol krai. According to the official OIE notification, five pigs died of the 10,150 animals at a farm there.
Based on information from Russia's animal health agency, these appear to be the first ASF cases in the North Caucasus federal district in 2021.
ASF outbreaks in European swine approach 1,800
So far this year, 1,761 outbreaks have been confirmed among domestic pigs, according to the latest update of the Animal Disease Information Notification System from the European Commission (EC; as of November 21). ASF cases have been recorded in 10 countries. The EC does not record data on the situation in Russia through this system.
For comparison, 1,240 ASF outbreaks in 10 states were registered with the EC System during the whole of 2020.
So far in November, five countries have reported new outbreaks. These include the worst-affected country, Romania (now with 1,576 outbreaks so far in 2021). Also notifying the EC of new cases of the disease this month have been Bulgaria, Germany, Slovakia and Ukraine.
Also this month, Germany registered its first ASF outbreak in Mecklenburg-West Pomerania. Located in the northeast of the country, this state adjoins Brandenburg, where previous cases have been detected in wild and domestic pigs this year.
ASF detected in two Polish non-commercial herds
In Poland, two new outbreaks of ASF have been confirmed in the central province of Holy Cross (Swietokrzyskie). Affected was one herd of 135 pigs in an area where there had been no previous cases, according to the nation's chief veterinary office. The other herd comprised 34 pigs, and was in a district already under disease control restrictions.
These bring to 121 the number of outbreaks in Poland so far in 2021. Directly involved have been more than 43,600 animals.
New cases in wild boar reported in 12 European countries
So far this month, 11 of the 12 states registering ASF cases with the EC have recorded at least one new case.
Through its notification system, EC had been informed of a total of 10,614 outbreaks of ASF among wild boar in 2021 (to November 21). During the whole of last year, total outbreaks across the region was just over 11,000 outbreaks in 14 countries.
Recording the most outbreaks in Europe so far this year is Poland (2,618). Also reporting new cases so far this month are Hungary (2,535 outbreaks so far this year), Germany (2,160), Slovakia (1,540, Romania (933), Latvia (269), Bulgaria (228), Lithuania (188), Estonia (61) and Ukraine (3).
Wild pigs infected with ASF in Italy, Germany and Russia
Having remained at five since February, Italy's total outbreaks has risen to eight. For some time, authorities have been working to eradicate ASF on the island of Sardinia. This month, Sardinia Post reported that 81 unregistered feral pigs had been rounded up and culled in one district. Following previous similar operations that form part of the eradication program, all pigs were found to be disease free.
In eastern Germany, the number of wild boar that have tested positive for the ASF virus has risen to 2,836 (as of November 26). This figure includes all cases in the wild population since the first case in September 2020. The total comprises 2,172 cases in the state of Brandenburg, 663 in Saxony, and the latest case in Mecklenburg-West Pomerania. Virus-positive wild animals have been found in seven districts in Brandenburg, and two in Saxony.
In Russia, ASF has returned to the Volgograd region, according to the latest OIE notification. One wild boar there has tested positive for the virus, and there has been one additional case in Kostroma. These oblasts are in the Southern and Central federal districts, respectively.
ASF along the border between Germany and Poland is among the factors challenging the European pig sector, according to a recent report on global pork markets.
View our continuing coverage of the global African swine fever situation.