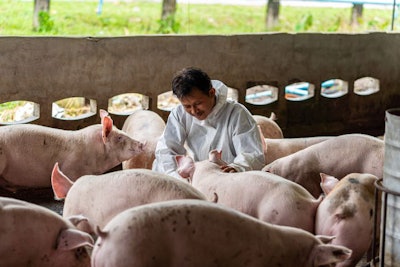 Research to be conducted in Vietnam will focus on the potential introduction of the virus to a sow farm from boar studs
New research will examine the risk of introducing African swine fever (ASF) via artificial insemination (AI) in pork production.
The Swine Health Information Center (SHIC) will use funding from the U.S. Department of Agriculture (USDA) Foreign Agricultural Service (FAS) to sponsor research in Vietnam. SHIC says AI has been linked to the spread of several pig disease outbreaks.
The study will examine potential introduction of ASF to a sow farm as a result of semen movement from apparently healthy boar studs located in an ASF disease control area, SHIC said. The research will be conducted by a team from the University of Minnesota with academic partners from the Vietnam National University of Agriculture. The study will include a pro-active risk assessment systematically evaluating the potential risk of semen movements during an outbreak. Resulting information will help the U.S. swine industry continue to prepare for foreign animal disease issues as well as implement science-based prevention protocols.
This research will examine pathways of ASF introduction into boar studs and semen movement into sow farms. Researchers will also look at the simulated spread of ASF in a sow farm with multiple sows simultaneously exposed to ASF via the AI process. Present limitations on currently proposed surveillance protocols as they apply to boar studs, along with the inability to definitely show semen produced within an ASF control area is virus-free, create the necessity for research to determine what surveillance is needed, and how long semen should be held, to increase the likelihood of ASF detection.
The outcome from this project will be a completed risk assessment of the likelihood of disease spread from the movement of semen from boars in an ASF disease control area.
In another recent SHIC-funded study, researchers developed a quantitative risk assessment model to estimate the probability that one or more corn or soybean meal ocean vessels contaminated with ASF virus would be imported into the U.S. annually. The model can be used to evaluate risk mitigation strategies and critical control points for inactivating ASF virus during feed ingredient processing, storage and transport, and contribute to the design and implementation of biosecurity measures to prevent the introduction of ASF into the U.S. and other ASF-free countries.