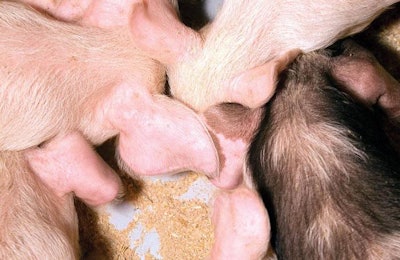 For the first time, cases of African swine fever have been reported in the Urals federal district of Russia.
At the end of September, first ever cases of African swine fever (ASF) were detected in the Urals federal district of Russia.
According to the official report from the nation's veterinary authority, 49 cases including 14 deaths were recorded in three backyard herds in different regions of Chelyabinsk oblast. First to be affected was a herd of 335 pigs in Kopeysk, according to the official notification to the World Organisation for Animal Health (OIE). Around one week later, the virus was detected in a group of 70 animals in Krasnoarmeysky, and later in another non-commercial herd of 224 pigs in the district of Korkino.
While these were the first cases in this far western district of Asian Russia, ASF has been present in the country's Far Eastern federal district since July 2019.
Since mid-September, the Russian agency has registered 18 new outbreaks of the disease in the Far East. Directly affected were 1,985 pigs, including 1,700 on a farm in Amur oblast. Also testing positive for the ASF virus were animals in non-commercial herds in the same oblast, and in Khabarovsk.
In Primorsky krai, further cases and mortalities as well as 95 more animals were culled in relation to previously reported outbreaks among domestic pigs.
Furthermore, OIE was notified since September 24 about a further 15 wild boar testing positive for ASF virus at 11 locations in Amur and Khabarovsk.
ASF detected at 5th South Korean farm this year
During the first week of October, one pig at a farm in the north of South Korea tested positive for the ASF virus. According to the official report to the OIE, the whole herd of 579 animals has been culled. Affected was a farm in Inje county, which is in the northeastern province of Gangwon, and borders North Korea.
The affected premises is around 165 km east of the capital, Seoul, according to the Yonhap news agency. There are no other pig farms within a radius of 10 km.
In 2019, there were 14 ASF outbreaks on farms in South Korea, leading to the culling of more than 150,000 pigs, according to this source. Two farms were infected by the disease in 2020, and four earlier this year. The most recent cases were more than one month ago.
ASF-infected wild boar have been found in the area of the farm, reports the agriculture ministry. As soon as the disease was suspected, all pig movements there were halted. Disinfection was carried out of clothing, footwear, and vehicles at the premises, and on adjacent roads.
As of September 27, South Korea had confirmed 1,634 wild boar infected with ASF, according to the United Nations' Food and Agriculture Organization (FAO). The animals were found in Gangwon and neighboring Gyeonggi.
ASF was first detected in South Korea on a farm in September 2019.
Last month, South Korea's interior ministry announced emergency support for four provinces to help with ASF control measures. FAO reported the total amount of KRW1.78 billion (US$1.5 million) will be distributed between North Chungcheong and North Gyeongsang, as well as Gangwon and Gyeonggi.
Philippines continues ASF recovery
Last week, the first town to be infected with ASF in the Eastern Visayas region was declared free of the disease, reported the Philippine News Agency (PNA). The national government's agriculture secretary declared Leyte town in the province of the same name ASF-free — over 200 days after the last outbreak. More than 5,000 pigs were culled to control the disease, impacting the livelihoods of around 1,110 herd owners. ASF was detected in 49 communities in the region.
Further south — in the Caraga region in the northeast of the island of Mindanao — support has been given to around 60 farmers whose pigs were culled due to ASF. In the province of Surigao del Sur, they have recently received a share of 746 free-range chickens to kick-start new businesses, according to PNA. Previously, 200 pig owners in the province received financial compensation for more than 500 pigs that were culled to control ASF.
Located in the northwest of the island of Luzon, the government in Ilocos Norte has also released funds to support ASF-hit pig owners. Recipients are those whose animals were not insured. Meanwhile, reports the same source, local communities continue to carry out checks at their borders to prevent the re-entry of ASF on infected live pigs or pork products.
At the start of October, the Department of Agriculture in Manila announced it had released around 4,800 pigs to 1,300 owners across several regions. According to PNA, these animals are part of a planned swine repopulation program. They are sentinel animals, testing whether areas previously hit by ASF and depopulated are now free of the infection.
Taiwan to raise import inspections
At the start of October, the Customs Administration of Taiwan announced future restrictions on the number of weekly express air shipments.
According to Focus Taiwan, the caps aim to facilitate more rigorous inspection of goods from countries where ASF is present. The announcement came after recent ASF-positive tests on meat products entering Taiwan by air from Vietnam.
Already from November, freight companies will no longer be permitted the option of bulk clearance for air express consignments from risk countries.
As well as Vietnam, the administration identifies the following as countries as currently high-risk for ASF: Bhutan, Cambodia, East Timor, India, Indonesia, Laos, Malaysia, Myanmar and the Philippines.
The cap system is scheduled to apply from December 1.
ASF situation elsewhere in Asia
At the end of September, Tripura became the latest Indian state to confirm its first cases of ASF.
Three positive samples were obtained from an "exotic breeding center" in Kanchanpur, according to Hindustan Times. All pigs within 1 km of the outbreak were scheduled for culling. Affected owners were promised financial compensation.
The same source reports that more than 25,000 pigs were lost to ASF in the state of Mizoram between March and August.
Tripura and Mizoram are neighboring states in northeastern India.
According to the latest FAO report, pigs that died during September in Indonesia's West Kutai Regency have tested positive for the ASF virus. The disease is also suspected in two regions of Central Kalimantan province.
In Papua New Guinea, Morobe province is now considered to be a "disease area" for ASF, according to the same source. The Highlands region is the only infected zone.
More than 90,000 pigs in Vietnam have been culled so far this year to control ASF, reports the FAO. This is more than twice as many as in 2020.
According to recent reports to the OIE from the territory's veterinary authority, no new cases of ASF have been detected in wild pigs in Hong Kong. After a number of reports of dead animals in a national park, one wild pig tested positive for the virus in late August. This remains the only positive case to be identified.
An ASF vaccine candidate developed in the United States has been successful in preliminary efficacy tests. However, it will be some time before the vaccine is available on the market, officials say. Currently, there are no proven means to prevent or treat this devastating and highly contagious pig disease apart from strict biosecurity.
View our continuing coverage of the global African swine fever situation.