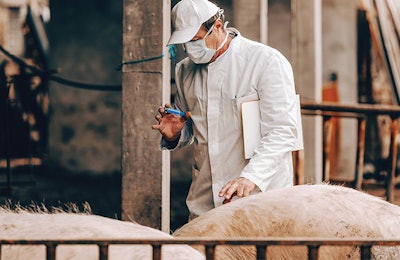 No major gaps in US defenses against ASF, study says, but feed presents a vulnerability
U.S. industry and government biosecurity efforts have considered all major means by which African swine fever (ASF) could enter the country, though some vulnerabilities have been better addressed than others, according to a study released this month by the Pork Checkoff and Swine Health Information Center (SHIC).
The study, completed with input from an advisory group with representatives from academia, industry and government, found no major gaps in industry or government protocol for preventing the entry of ASF through the import of live animals, import of pork products, and the movement of people across international boundaries, among other potential pathways. The results, according to SHIC executive director Paul Sundberg, are evidence of the progress made since ASF broke out in China in 2018. But there remains room for improvement, he said.
"Where we are right now is this idea of continuous improvement," he said. "Where we are now is way better than in 2018. We all took ASF as encouragement, a real risk and something to focus on. We made a lot of progress, but we're not as good as we're going to be in 2022, or 2023."
One of the primary areas for improvement, according to the study, is in the animal feed sector. Although ASF would be transmitted more easily through the illegal import of infected pork products, the chance that illegal meat would make its way to pigs in the U.S. is relatively small on account of U.S. Customs and Border Protection and U.S. Department of Agriculture regulations, Sundberg said. If the virus were to enter in infected feed, however, it would encounter few obstacles.
"We know that feed can be contaminated with ASF, and we know that ASF can last long enough for it to be imported and still be infectious when it gets here," Sundberg said. "We only have voluntary programs right now to address any kind of mitigation that goes into that, and if someone doesn't follow the guidelines, it's a direct pathway to the pigs."
The report also noted that feral pigs could become a threat if the virus enters Canada or Mexico. However, Sundberg noted that if wild populations were infected with the virus, there is little anyone could do to stop contagious animals from crossing the border.
Feed, on the other hand, could be subject to more mitigation, Sundberg said. Some companies have protocols such as holding times in place for imported ingredients, he said, but these standards aren't universal. Kansas State University, in cooperation with the National Pork Board, are working on creating more uniform industry standards that would be, at least for now, entirely voluntary, he said, noting that recent research has suggested imports of feed ingredients could spread other diseases such as foot-and-mouth disease as well.
"That's a project that is ongoing and we're pushing for that as quickly as we can," he said.