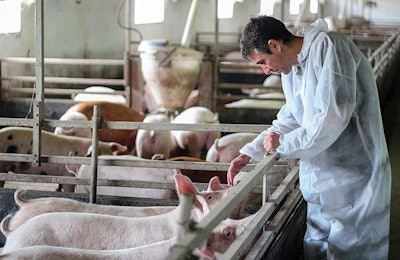 New cases in Poland, Romania prompt Europe's largest pork producer to further secure its border
With the continued discovery of new cases of African swine fever (ASF) in wild boar in two of its federal states, Germany is proposing to introduce a protective corridor along its eastern border with Poland. While the disease situation is reported to be resolved in parts of Russia and Ukraine, new cases in domestic pigs have been recorded in Poland and Romania.
This week, a senior official from Germany's federal ministry of agriculture has been in Brussels, seeking approval from the European Commission (EC) for the construction of a barrier system along part of its eastern border with Poland.
Since September of last year, ASF has affected ever more wild boar in Germany — firstly in the state of Brandenburg, and then in neighboring Saxony. According to the German veterinary institute, genetic sequencing of the ASF virus from the nation's wild boar shows a close relationship to the virus circulating in Poland. It is also known that the wild animals move across the border between the two nations.
'White zone' to restrict wild boar movements
State Secretary to the agriculture ministry, Beate Kasch presented a proposal for the construction of a series of fences to control these movements. Stressing the importance of a cooperation between Germany and Poland on this action, she outlined plans for a "white zone" between two lines of fences, between which all wild boar will be eliminated. According to the BMEL, the EC has welcomed the concept.
Involved in these discussions were Deputy Director General for Health and Food Safety at the EC, Claire Bury, and Kasch's counterparts from Poland and the Czech Republic.
First cases of ASF were reported in the Czech Republic in 2017. Swift action resulted in the elimination of the virus, which has been free of ASF since 2018. However, some of the cases in wild boar in Saxony have been within 40 kilometers of the Czech border. This presents a threat to the country's disease-free status.
According to BMEL, Germany's federal minister Julia Klöckner initiated the formation of a trilateral group — the "Animal Health Troika" – which was established in November of 2020. Through this agreement, Germany has been urging the Polish authorities to construct a third level of fencing in its side of the border.
Germany requests more funding for ASF measures
During her visit, Kasch requested additional funding for the fencing from the EC. A previous co-financing agreement resulted in EUR9 million to help with construction, but Germany is now asking for additional financial support for maintenance of the fencing.
Earlier this month, presence of ASF in the country's wild boar was identified as one of the factors pushing the German pork industry into a "precarious" situation.
ASF cases in German wild boar approach 2,200
Total confirmed outbreaks in the wild boar population have reached 2,184 based on data from the authorities in the two affected states in the east of the country. This total comprises 1,703 outbreaks in Brandenburg (as of September 22), and 481 in neighboring Saxony (as of September 20).
Since ASF was first detected in Germany just over 12 months ago, the virus has been detected in wild boar in eight districts in these two states — seven in Brandenburg, and one in Saxony.
Among Germany's domestic pig population, there have been just three confirmed outbreaks so far. All were in Brandenburg during July.
Poland's farm outbreaks overtake the nation's 2020 total
Over the past week, Poland's chief veterinary office has recorded three new outbreaks on pig farms. These ranged in herd size from 20 to 125 animals. While two were in the heavily-affected county of Mielec in Subcarpathia (Podkarpackie), the third occurred in Warmia-Masuria.
Based on information from this source, the latest cases bring to 39,260 the number of domestic pigs directly impacted by ASF outbreaks in Poland so far this year at 104 premises.
In 2020, Poland's total outbreaks in domestic pigs was 103, according to the Animal Disease Information Notification System of the European Commission (EC).
Overview of ASF situation in European pig herds
So far this year, 1,434 outbreaks have been confirmed among domestic pigs, according to the latest update of the EC's Notification System (as of September 17).
Ten European states have registered ASF outbreaks in pigs so far in 2021. Romania now accounts for 1,270 outbreaks or more than 88% of the region's total.
As well as Poland and Romania, two other states have registered new outbreaks with the EC so far this month — Ukraine (now with nine outbreaks to date in 2021), and Slovakia (8).
During the whole of 2020, 1,240 ASF outbreaks in pigs were registered with the EC by 10 European countries. Of this total, 1,053 outbreaks were in Romania.
Over the past week, Romania's veterinary authority has officially notified the World Organisation for Animal Health (OIE) about 57 new outbreaks. All except one of these occurred in herds described as "backyards." There was also a positive case in a pig carcass dumped in a public area.
In Ukraine's southern oblast of Kherson, ASF has been resolved. This is according to the latest report to the OIE from the national animal health agency. In July, there were two outbreaks in this region — in a small backyard herd and in one dead wild boar. No further cases have been reported since that time.
No new outbreaks reported in Russia
Over the past week, Russia's veterinary authority has reported to the OIE no new cases of ASF in its western regions.
Indeed, the ASF situation is described as "resolved" in the regions of Kursk, Smolensk, and Tula (in the Central federal district), Mari El Republic (Volga district), Novgorod (Northwestern district), and Volgograd (Southern district).
Several of the latest updates to the OIE include minor adjustments to the numbers of susceptible pigs and/or culls. These relate to previously reported outbreaks in the Central, Northwestern, and Volga federal districts.
Only one of the recent outbreaks reported in Russia has been at a large commercial unit. The only exception was a herd of more than 53,000 pigs in Pskov oblast (Northwestern federal district) earlier this month.
European wild boar outbreaks pass 9,200
As of September 17, 12 European countries had registered 9,245 ASF outbreaks in wild boar with the EC system in 2021. Highest numbers of outbreak so far this year have been confirmed by Hungary with 2,509 outbreaks. Poland has recorded 2,212.
So far this month, nine European states have recorded new outbreaks in their respective wild boar populations. Latest cases bring the national totals for the year so far in Germany to 1,587, Slovakia (1,424), Romania (868), Latvia (208), Bulgaria (198), Lithuania (114), and Estonia (47).
Caribbean region: ASF impacts Haiti, Dominican Republic
In recent days, the first ASF outbreak has been reported in Haiti since 1984.
Located on the island of Hispaniola with Haiti is the Dominican Republic, where ASF has been affecting pig herds since July of this year. Based on reports to the OIE, 77 outbreaks of the disease have now been confirmed. These directly impacted more than 9,600 pigs. While most of the cases have been in backyard herds, two of the latest outbreaks were on semi-intensive farms. Already confirmed in 23 provinces, the virus appears to be spreading across the Republic.
View our continuing coverage of the global African swine fever situation.