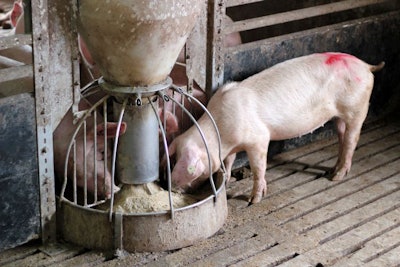 An update of the recent ASF outbreaks in China, Philippines, Ghana, South Africa
While just one new outbreak of African swine fever (ASF) has been confirmed in domestic pigs China, cases have been officially registered at 15 locations in Russian's Far East. Meanwhile, local media report the disease in swine or wild boar in three regions of the Philippines, two districts of Indonesia, and two South Korean provinces.
In Africa, additional cases in pigs are confirmed in five provinces of South Africa, and suspected in a new region in Ghana.
ASF in China
In the central-southern Chinese province of Hunan, inspection of a vehicle earlier this month revealed a large number of dead and sick pigs. These tested positive for the ASF virus, according to the official notification to the World Organisation for Animal Health (OIE).
At the highway checkpoint near the township of Renhepu in the Changde district, 92 pigs were found dead, the Chinese authorities report. The remaining 183 animals in the truck have been destroyed.
Most recent cases in Hunan were reported earlier this year. Animals at a quarantine center in Changsha district tested positive for the ASF virus.
Following reports of dead wild pigs in Hong Kong in recent weeks, Chinese authorities conducted tests that showed the presence of the ASF virus. According to a subsequent report to the OIE, no further cases of the disease have been found in the territory.
China: ASF outbreak trends since 2018
Up to the end of July, 11 ASF outbreaks had occurred in China so far this year. This is according to a Chinese official reported by the United Nations' Food and Agriculture Organization (FAO). Cases have been found in eight provinces in 2021, resulting in the culling of 2,216 pigs.
Earlier data point to an easing in the ASF situation in China. In 2018, there were 99 outbreaks, and more than 800,000 animals were culled, according to the official. In the following year, there were around 390,000 culls as a result of 63 confirmed outbreaks. Last year, 13,500 pigs were directly impacted by 19 outbreaks.
New outbreaks in Russia's Far East
Over the past two weeks, Russia's animal health authority has registered a further 15 ASF outbreaks in the Far Eastern federal district.
Following a five-month hiatus, the ASF virus was detected again in Yevrey oblast (Jewish Autonomous Oblast). Affected was one backyard herd comprising 13 pigs, one of which died. As well as the Chinese province of Heilongjiang, Yevrey borders the Russian oblasts Amur and Khabarovsk, where recent ASF cases have been reported.
According to the latest series of reports to the OIE, of the 14 other outbreaks affected domestic pigs in the district, 12 were in Amur oblast. All these outbreaks were confirmed in the first two weeks of September in backyard herds. While there were more than 1,000 animals in one of the affected herds, the others each had between one and 35 animals.
The other domestic outbreak was in Khabarovsk oblast, in 17 non-commercial pigs. This brings the total number of pigs impacted by the latest outbreaks to 1,194.
In addition, one wild boar found dead has tested positive for the ASF virus in in Primorsky krai.
New ASF cases reported in three regions of the Philippines
In the Eastern Visayas region, ASF is currently affecting 43 communities, reports the Philippine News Agency (PNA). As of the middle of this month, almost 15,000 infected pigs have been found in 230 villages. This amounts to around 7% on the region's hog population.
According to a local Department of Agriculture official, the outbreaks are slowly being brought under control. Unregistered trading of processed pig meat is blamed for the spread of the infection in the area.
Presence of ASF was first detected in the region in the province of Leyte in January of this year.
Earlier this week, a backyard pig herd tested positive for the ASF virus in the province of Davao Occidental, which is in the south east of the island of Mindanao. PNA reports that 26 pigs have died there since the end of August. Local authorities have set up additional checkpoints in the area, but no animals have been culled so far.
In the far north-west of the island of Luzon, pigs in four villages in the province of La Union have tested positive for the ASF virus, according to the same source. La Union is part of the Ilocos Norte region.
Latest official report on the ASF situation to the OIE outlines a further 33 ASF outbreaks in swine in the Philippines. Covering eight provinces, the outbreaks occurred between January and June of this year. Directly impacted were almost 29,000 pigs at affected premises.
ASF update from other Asian states
In Malaysia, ASF remains confined to the state of Sabah, according to the latest FAO update. A total of 46 outbreaks have been recorded, involving 1,275 domestic pigs. Previous OIE reports also cover cases in wild bearded pigs in the state.
Around one month ago, local media reported suspected ASF cases in the neighboring state of Sarawak.
In Indonesia, "dozens of pigs" are reported to have died in West Kutai Regency, according to the FAO. In a national park in North Bengkulu Regency, 12 dead wild boar have been found.
Citing agriculture ministry figures, the same source reports that the number of wild boar infected with ASF virus in South Korea has reached 1,606 (as of September 13). New cases have been found in the northern provinces of Gangwon and Gyeonggi.
First cases of ASF in South Korea were confirmed in October of 2019.
South Africa registers 10 new ASF outbreaks
Over the last two weeks, South Africa's veterinary authority has officially registered 10 new outbreaks in domestic swine. One of these was reported retrospectively from April, but all the others were confirmed during the second half of August.
According to these latest reports to the OIE, six of the outbreaks were in Western Cape (including the city of Cape Town). There were also cases in Eastern Cape, Free State, Gauteng, and North West province.
Among those affected were three facilities described as "farms," each with between 200 and 639 pigs. The others were in village or backyard herds of up to 1,000 animals.
These latest cases bring the country's total ASF outbreaks to 115, directly involving 49,120 pigs.
In the current outbreak wave, the first cases were identified in Mpumalanga in April of 2019.
Animal health task force set up in South Africa
Following a series of outbreaks of avian influenza and foot and mouth disease as well as ASF, a new team was appointed to tackle animal biosecurity in South Africa.
Last month, the Minister at the Department of Agriculture, Land Reform and Rural Development appointed the ministerial team. Its primary goals are to find mechanisms and provide recommendations to tackle the country's animal biosecurity issues. Minister Thoko Didiza wants a public-private partnership established between government and the private sector.
Using their expertise in related areas, four independent members have been tasked with assessing the roles of both provincial government and private sector laboratories in disease monitoring, residue tests, and meat hygiene.
Ghana: ASF spreads to eastern region
In the east of this West African state, further ASF cases are suspected, reports Ghana Web.
Last week, seven farms were affected in the district of Jaman North, which is in the Bono region. First cases in the area were reported two weeks previously. Around 200 pigs have died.
According to the region's chief veterinarian, a ban has been imposed on all movements of pigs and pork products in the area. Carcasses of those animals that died have been buried in a deep pit.
Ghana's Bono region borders Ivory Coast, where ASF was first detected in April this year after a 12-month hiatus.
In early August, around 500 pigs were reported to have died of ASF in the southern region of Ghana, Greater Accra.
View our continuing coverage of the global African swine fever situation.