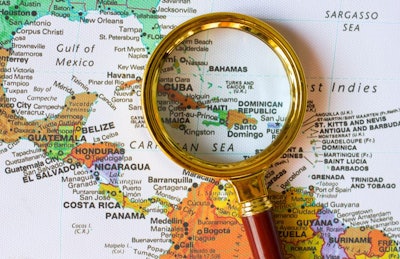 African swine fever has been confirmed in 11 provinces on the island since July 28
Members of the Dominican Republic Army have been enlisted to fight the spread of African swine fever (ASF) on the island, according to a report.
The army has established checkpoints intended to prevent the movement of sick pigs from one province to another. This comes a week after ASF was detected in the Dominican Republic for the first time, making it the first time the disease has been confirmed in the Western Hemisphere since the 1980s.
Minister of Agriculture Limber Cruz said the government is taking the recommended measures to prevent disease spread.
"We will only stop when the Dominican Republic is free of African swine fever," he said in the report.
He added that farms are being disinfected and the origination of the disease on the island is under investigation, disease detection equipment donated by the United States is being used, and samples taken from pigs are being analyzed at the Central Veterinary Laboratory.
To date, 11 provinces in the Dominican Republic have confirmed cases of ASF: Sánchez Ramírez, La Vega, Santiago, Hermanas Mirabal, Montecristi, Dajabón, Santiago Rodríguez, San Juan, Duarte, Elías Piña and the National District.
A mobile command center has been established in each of these provinces.
"With this tool we are going to have La Vega and other municipalities communicated 24 hours a day until the plague is eradicated," said General Juan Manuel Méndez, director of the Emergency Operations Center (COE).
According to the report, culling of sick pigs began last week in Sánchez Ramírez province, where approximately 18,000 pigs have been affected.
Measures to prevent spread
In a bulletin, the Food and Agriculture Organization of the United Nations (FAO) outlined measures that should be taken to prevent further spread of the disease:
Strengthen border controls to prevent the movement of pigs and pork products.
Increase the control of personal belongings of travelers returning from the Dominican Republic. These travelers should not be allowed to visit farms or forests.
Strengthen biosecurity measures in pig farms.
In the event of a suspected case, all pigs on a farm should be confined to their pens or confined in other premises where it is possible to isolate them.
Feeding with leftovers should be discouraged.
Increase surveillance, specifically the notification and testing of sick or dead pigs, including feral and free pigs.
Strengthen awareness and communication of risks on ASF to producers, veterinarians, hunters, slaughterhouse employees and other stakeholders in the production chain.
View our continuing coverage of the African swine fever outbreak.