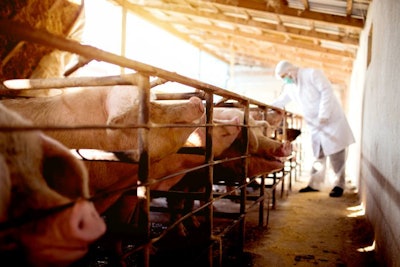 African swine fever hits 2 farms in Brandenburg
African swine fever (ASF) has been confirmed in domestic pigs in Germany for the first time, the country's agriculture ministry said on July 16. The Friedrich-Loeffler Institute confirmed the findings.
The report comes from the eastern state of Brandenburg, where the country saw its first cases of ASF in wild boar in September 2020. Since then, the agriculture ministry of Brandenburg gives its total as 1,249 confirmed cases. With ASF virus-positive cases detected in five districts, Oder-Spree has been worst affected (654 cases). Total cases of ASF among wild boar in Germany reached 1,548 animals, as of July 13.
Brandenburg borders Poland, which has confirmed 20 outbreaks of ASF in domestic pigs this year, with 25,000 swine affected.
"For almost a year we have been fighting against the enormous pressure of the disease from Poland," said Brandenburg state health minister Ursula Nonnemacher. "I very much regret the first cases in farm pigs, but sadly this possibility could never be fully ruled out."
According to the Friedrich-Loeffler Institute, the farms affected are an organic farm in the district of Spree-Neiße, where one sow died, and a small holding with two pigs in the district of Märkisch-Oderland. The organic farm is located in an infected core zone established because of ASF in wild boar, the small holding in a so far ASF-free white zone. Cause of the infections is unknown.
The pigs from both farms must be culled and destroyed in accordance with the Swine Fever Ordinance, the institute said.
In the district of Spree-Neiße, ASF first appeared in wild boar in Germany in September 2020. Since then, 103 cases have been confirmed there, and 261 in the Märkisch-Oderland district.
View our continuing coverage of the African swine fever outbreak.