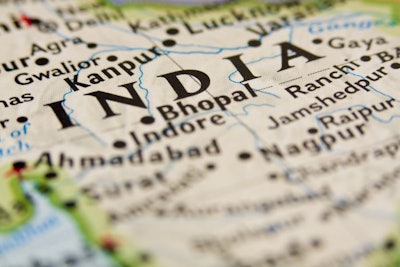 While losses of pigs from African swine fever in northeastern India continue to rise, investigations continue into the source of infection.
Approximately 100,000 pig deaths in the northeast Indian states of Assam and Mizoram, and the nearby disputed territory of Arunachal Pradesh have been attributed to African swine fever (ASF).
According to Northeast Now, pigs are now being illegally purchased in two towns in Assam. These are destined for nearby Meghalaya, where pig and pork supplies have been hit hard by ASF. Officials in the state fear this trade could trigger further outbreaks.
Recent losses have been highest in Mizoram, which is also in northeastern India. Since ASF first reached the state in March, more than 10,600 pigs have been killed there as a result of the disease, reported National Herald India last week. The virus has now been detected in all 11 districts of Mizoram. Financial losses here alone have been estimated at INR1.17 billion (US$15.7 million).
In Assam, ASF has caused even greater mortality in pigs, estimated by the veterinary ministry at almost 39,000 pigs, reports News 18. The disease was first detected in this state in February 2020.
Pigs represent a major source of household income and are a significant part of the life and culture of northeastern India, according to Down to Earth. It reports ASF present during the month of June in the Indian states of Manipur, Meghalaya, Mizoram and Nagaland.
According to this source, ASF may have arrived in India from one of two epicenters in Tibet in 2020. Around that time, pig carcasses were observed in the Brahmaputra river, which forms part of the international boundary. In July 2020, first cases were detected in India in areas along the banks of this river in Arunachal Pradesh and Assam.
For Mizoram, the source of infection may have been Bangladesh. Since February, pig deaths were reported on the border, reports this source.
Fears of ASF spread in Malaysia
Last week, The Borneo Post reported that the veterinary service of the state of Sarawak was investigating the cause of death of some wild boar and pigs. At the end of June, villagers found a dead wild boar in Kapit division, near to the border with Sabah state. Within a week, five unusual deaths were recorded among pigs in two villages in the district of Lawas. Both have been officially declared ASF control areas.
The largest Malaysian state, Sarawak is in the northwest of the island of Borneo. It borders the Malaysian state of Sabah and the Indonesian state of Kalimantan. Both of these states have reported confirmed or suspected ASF cases.
Since ASF was first detected in Malaysia in February, all cases have been confined to the state of Sabah. According to the latest official report from the veterinary authority, there have been 33 confirmed ASF outbreaks in this area. These have involved 1,133 domestic swine and 54 wild boar, according to the World Organisation for Animal Health (OIE). The most recent documented case was on June 16.
Imports support pork supplies in the Philippines
At 76,000 metric tons for the period April 1-June 11, pork imports into the Philippines have spiked sharply. For the months of April and May, the monthly volumes of this trade are five times higher than in the corresponding periods of 2020, according to the Philippine News Agency (PNA).
In May, the country's president declared a state of calamity. This was justified partly as a result of the continued spread of ASF, and it enabled extraordinary measures to be taken to secure the nation's food supply. Domestic pork production had been hit by ongoing ASF outbreaks since July 2019, disrupting pork supplies and pushing up prices. As a result, food price inflation was rising fast, causing hardship to many in the country. The president used additional powers to reduce the tariffs on imported pork, and to increase import volumes.
According to PNA, these measures are beginning to have some effect. At 4.1%, the country's inflation rate is now falling from its peak of 4.5% in previous months. Meat price inflation remains high but is also lower month-on-month. Furthermore, the measures enabled regional governments to offer more support to their respective hog producers.
In the Caraga region in the northeast of Mindanao island, PNA reports that 68 hog farmers have recently received a share of PHP316,000 (US$6,300). Together with a sack of rice, this represented compensation for the loss of their pigs, which were officially culled to prevent the further spread of ASF.
Over the past two weeks, the same source has reported new confirmed or suspected ASF outbreaks in Leyte province in Eastern Visayas Region, in Ilocos Norte in the Ilocos Region, and in Davao del Oro town in Davao Region (island of Mindanao).
Detection of the ASF virus in meat shipped into Northern Samar province has led to an increase in checkpoints on the border of this Eastern Visayas region. It is hoped that more checks will halt the trade in undocumented and potentially contaminated meat.
Other ASF developments in Asia
In the Far Eastern federal district of Russia, one further outbreak of ASF has been confirmed in a backyard herd in Primorsky krai. This involved just five pigs, one of which died. It brings the region's total outbreaks reported to the OIE since April to three, involving eight pigs.
ASF was first detected in this Russian federal district in July 2019. Across six districts there — including Primorsky krai — a total of 215 ASF outbreaks were confirmed to the OIE up until April 2021. These involved 6,563 pigs and 290 wild boar, according to OIE reports.
As of July 5, the number of wild boar in South Korea that have tested positive for the ASF virus stood at 1,444. This is according to the latest update on the ASF situation in Asia from the United Nations' Food and Agriculture Organization (FAO). Cases have only been found in the northern provinces of Gyeonggi and Gangwon.
In Timor-Leste (East Timor), the same source puts the loss of pigs at 100,000 since September 2019.
Latest estimates of pig losses in Vietnam due to ASF have been put at 6.15 million, according to FAO. This figure includes around six million animals in 2019, 90,000 during 2020, and 60,000 during the first six months of this year.
South Africa registers 1 further ASF outbreak
In mid-April, 20 pigs died in the country's latest ASF outbreak, reports the veterinary authority in South Africa.
According to the OIE report, they belonged to a village herd of 58 animals at Masilonyana in Free State. These latest cases bring to almost 40,000 the number of pigs directly impacted by the disease in this outbreak series, which started in April 2019. Number of confirmed outbreaks is now 62.
In a recent Feed Strategy article, the effects of ASF are explored on feed production in China and Germany.
View our continuing coverage of the global African swine fever situation.