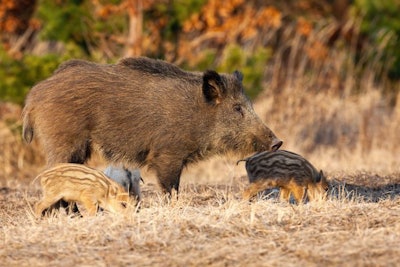 In the past week, a further 29 outbreaks have been reported among Romanian backyard herds while, in Germany, the 2 affected states are to receive additional financial support for the construction of boar-proof fences.
Over the past week, the World Organization for Animal Health (OIE) has been informed about new cases of African swine fever (ASF) in backyard herds across Romania. According to these latest reports from the national animal health agency, a total of 363 pigs are affected. Of the total 29 outbreaks, the largest herd comprised 72 animals. All the outbreaks occurred a broad area in the northwest and south of Romania.
After just one confirmed outbreak, Russia has reported to the OIE the resolution of the ASF situation in the Komi Republic. Located in the Northwestern federal district, this was the location of one outbreak of ASF involving a herd of 57 pigs in early April. According to the official report, this outbreak ended on May 17.
In a more concerning development, however, ASF has spread to affect a second large commercial unit in Russia's Central federal district. Latest to be affected was a farm with around 25,200 animals, 873 of which died. The premises is located near and appears to be epidemiologically linked to the index outbreak, which started on April 25. According to the official OIE report, both affected farms are in the Nikiforovsky district of Tambov oblast. Together, these two farms have lost more than 40,400 pigs as a result of mortality or culling.
Financial support for Germany's ASF-affected states
In a demonstration of solidarity with the German states hit by ASF in wild boar, the country's agriculture ministers have agreed to support the construction of fencing.
Welcoming this collaborative approach was federal agriculture minister, Julia Klöckner. According to Germany's agriculture ministry, she said the move will help prevent further spread of the disease. Eventually, this will lead to its eradication from the country.
Previously, the minister had gained a commitment from the European Commission for co-financing of approximately EUR9 million (US$10.7 million) to support the building of barriers to control the movement of wild boar. To obtain this support, affected states of Brandenburg and Saxony will apply to the Commission through the federal ministry.
Germany's total cases of ASF in wild boar now stands at 1,315 animals, based on information from the respective administrations of the two states affected so far.
With 1,062 confirmed cases since September 2020 (as of June 17), the eastern German state of Brandenburg is the location of most of the nation's ASF infections. Cases have been detected in five districts, according to the agriculture ministry. Worst affected is Oder-Spree with 585 cases.
Neighboring Saxony is the only other German state where ASF-positive cases have been detected among wild boar. By June 14, its total had reached 253 cases. This is an increase of 49 since June 7, reports the agriculture ministry. All infected cases so far have been found in the district of Görlitz.
Germany's domestic pig population so far remains free of ASF.
ASF cases in European wild boar pass 7,000
Latest update from the Animal Disease Information System from the European Commission (EC) puts the total for outbreaks of ASF among European wild boar so far this year at 7,199 (as of June 11). Compared with the previous update on June 5, this is an increase of 234. For comparison, just over 11,000 ASF outbreaks in the wild population were registered through this system during the whole of 2020.
In Europe, Hungary has been worst affected, recording 2,302 ASF outbreaks so far in 2021 — an increase of 37 from the previous EC report. However, Poland has registered the greatest increase in outbreaks over this period — 102. This nation's total now stands at 1,782. With a rise of 57 outbreaks, Slovakia has recorded 1,148 outbreaks so far this year.
Also registering new ASF cases in their respective wild boar populations over the past week are Romania (with a new total of 761 outbreaks), Germany (754), Bulgaria (169), Latvia (112), Lithuania (67) and Estonia (27).
In its latest updates on ASF cases among Polish wild boar, the nation's chief veterinary office has confirmed 106 more outbreaks. These involved 146 animals in eight provinces in cases confirmed between May 14 and June 15.
Russia is not included in the EC system. Its animal health agency has officially declared to the OIE that ASF has been "resolved" in one part of the country. According to the official report, this came after just one outbreak in Tver oblast in April. One wild boar tested positive for the ASF virus in Russia's Central federal district. It was the last case in a series of outbreaks in western Russia.
View our continuing coverage of the global African swine fever situation.