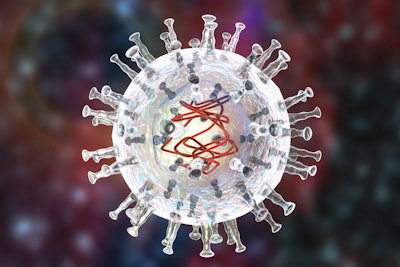 Latest development overcomes major challenge to vaccine production because live pigs and their cells are not needed
The U.S. Department of Agriculture's (USDA) Agricultural Research Service (ARS) has developed an African swine fever (ASF) vaccine candidate that has been adapted to grow in a cell line.
This development, announced on May 6, means live pigs and their fresh cells are no longer needed for vaccine production. The discovery tackles one of the major challenges to manufacturing a vaccine for ASF.
"This opens the door for large-scale vaccine production, which is a valuable tool for the possible eradication of the virus," said senior ARS scientist Dr. Manuel Borca in a press release.
The vaccine, grown in a continuous cell line — which means immortalized cells that divide continuously or otherwise indefinitely — has the same characteristics as the original vaccine produced with fresh swine cells.
"Traditionally, we used freshly isolated swine cells to produce vaccine candidates and this constitutes a significant limitation for large-scale production," said senior ARS scientist Dr. Douglas Gladue in the release. "But now we can retain the vaccine characteristics while simultaneously replicating the vaccine in lab-grown cell cultures. We no longer have to rely on gathering fresh cells from live swine."
The continuous cell line vaccine candidate was tested in a commercial breed of pigs and was determined to be safe, with no negative effects observed.
Other work on ASF vaccines
There are no commercially available, safe and effective vaccines for ASF, a highly contagious disease that is fatal in nearly 100% of infected swine. Recently, Philippines' Department of Agriculture Secretary William Dar said the first trials of an ASF vaccine candidate there were being conducted on 10 farms. And Vietnam's Deputy Minister of Agriculture and Rural Development, Phung Duc Tien, said that country plans to produce and commercialize an ASF vaccine in the third quarter of this year.
An ASF vaccine candidate developed by researchers at the Harbin Veterinary Research Institute at the Chinese Academy of Agricultural Sciences (CAAS) have reportedly seen promising results in clinical trials conducted on 3,000 pigs.
Research and trials are ongoing at several other institutions.
View our continuing coverage of the African swine fever outbreak.