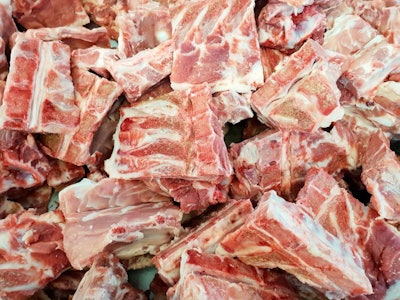 In a bipartisan letter, lawmakers urge US Trade Representative Katherine Tai to press for expanded market access for US pork
A bipartisan group of more than 70 members of Congress have sent a letter to U.S. Trade Representative (USTR) Katherine Tai in an effort to expand Vietnam's market access to U.S. pork.
"While you discuss the full range of trade issues with Vietnam, including those subject to Section 301 investigations, please consider pressing for further market access for U.S. pork to support these domestic producers," the letter said.
Eliminating trade barriers with Vietnam is one of the legislative priorities of the National Pork Producers Council (NPPC), which says Vietnam is one of the best near-term export market opportunities for the U.S. pork industry. Domestic pork consumption in Vietnam is greater than 2.5 million metric tons (MT) per year, but in 2020, U.S. pork producers only exported 25,183 MT to Vietnam, at a value of US$54 million.
NPPC President Jen Sorenson said in a statement that U.S. hog farmers are "hamstrung by unjustified tariff and non-tariff barriers, allowing global competitors to take advantage of the supply shortfall."
Among the non-tariff barriers the U.S. faces in Vietnam is a ban on white offal, which includes products such as intestines, spleen and tongue that are not readily consumed in the U.S. but are popular in Vietnam, according to NPPC's assistant vice president of international affairs, Maria Zieba.
Last year, Vietnam took an initial step forward in addressing the U.S. pork tariff disadvantage when, from July to December, it temporarily reduced its Most Favored Nation tariff rates from 15% to 10% for frozen U.S. pork products. As a result, U.S. pork exports doubled during that timeframe, compared with the first half of the year.
"The surge in exports during the tariff reprieve, coupled with Vietnam's growing population and cultural preference for high-quality pork, demonstrates that the United States is barely scratching the surface of its export potential to Vietnam," the letter said.
The letter noted that African swine fever (ASF) has decimated Vietnam's hog herd and created increased demand for pork there.
"Allowing U.S. pork producers to fill this great demand provides the opportunity to increase the value of exports to Vietnam from the current US$54 million to a level closer to Mexico's US$1.2 billion," the letter said.
In a media call with reporters in April, NPPC Vice President and Counsel Nick Giordano said there is a lot of opportunity in Vietnam for U.S. pork.
"The U.S. has a trade imbalance with Vietnam and pork alone is a good candidate to put a dent in that trade imbalance," he said.